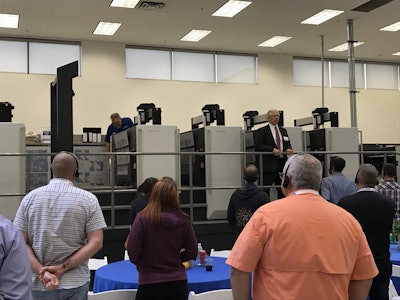 It was also an opportunity to listen to its clients' ground-level experiences and views regarding current industry and market trends.
Komori Corporation Ltd. president and CEO, Satoshi Mochida, and Komori America's acting president, Robert Rath, were on hand to greet the visitors, along with the Komori management team and staff.
Komori's senior executives kicked off the event with the address, "Meeting the Challenges of the Industry." They were followed by luncheon speaker, graphic communications strategy consultant, Mike Philie, offering his perspective on accommodating emerging market demands in his talk, "Changing your Business Model for Success." How to achieve the best business outcomes was shown through live demonstrations of Komori's newest addition, the GLX840P high-speed offset commercial press; demonstrations and overviews of Komori's Impremia IS29 digital and Impremia NS40 inkjet production presses; and a demonstration on value-added packaging production with the GL540 offset press and KomoriKare's K-Supply. The floor was then turned over to attendees for a lively general discussion.
As a special gift at the end of the day, Komori passed out swag bags that included a custom Komori debossed leather travel wallet. One of these contained a key to unlock a treasure box, and inside the treasure box was a German beer stein symbolizing the grand prize: a fully paid, three-day trip to global trade show, drupa 2020, courtesy of Komori. Steve Witt, production manager of Slate Group, Lubbock, TX, was the very lucky and entirely delighted winner.
"We are pleased with the success of the open house, and regard these events as the chance to meet one-on-one with our customers, not only to show them what we have available now, but also to gain their valuable perspectives on what's happening in the industry, and what we are doing in terms of developing innovative technologies and services to support those trends with solutions that will improve and grow their businesses," said Jacki Hudmon, senior vice president sales and marketing, Komori America.
Companies in this article