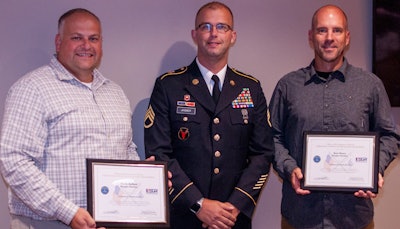 Employer Support of the Guard and Reserve (ESGR) is a Department of Defense program that develops and promotes supportive work environments for service members in the National Guard and Reserve. Service members are able to nominate supervisors for a Patriot Award recognizing their support contributing to employee participation in the National Guard and Reserve. On August 28, Staff Sergeant Jeremy Jasmer, Minnesota Army National Guard service member and Mechanical Designer at Douglas Machine, presented Ron Moore, Director of Corrugate, Paperboard & Top Load Products, and Derek Bolland, Engineering Manager, with the Patriot Award.
Staff Sergeant Jasmer has a demanding and often‐changing schedule with the National Guard and has attended multiple one month training exercises during his four year employment at Douglas. "Douglas leadership helps by planning projects around my schedule." Jasmer stated. "Upon returning from every training, they welcome me back and support me in my transition back to Douglas." Douglas is honored to congratulate Ron Moore and Derek Bolland, and sincerely thanks Staff Sargent Jasmer for his service.
Companies in this article
Videos from Douglas Machine Inc.