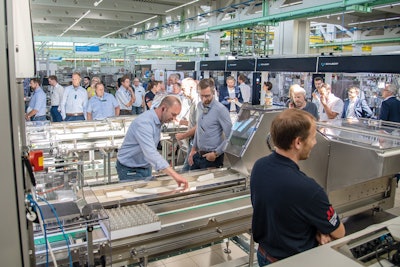 The Schubert team demonstrated its new vision machine with the newly developed 3D image recognition system and shared insight into the Cobot laboratory. These creative technical solutions and the interface-free overall solution from a single source met with great interest amongst the guests.
"The fact that you have joined us in such large numbers today bears witness to the great demand for agile filling and packaging lines." With these words, Daniel Traub, Sales Manager at Schubert-Cosmetics, welcomed the guests to the in-house exhibition. More than 50 customers from Germany, Italy, Turkey, and even Mexico came to Crailsheim especially for this purpose. The program included the presentation of the new vision machine, which offers manufacturers high-level agility and productivity in filling and packaging cosmetics. For this new packaging machine, an important component is also the new high-resolution 3D camera system for the feeding of bottles, lids, pumps etc. without the need for format parts. The image processing system's four cameras and two light pattern projectors detect the exact position, height and rotary orientation of the fed products – in all shapes and colours. The vision system processes 13 formats for primary packaging and four formats for secondary packaging. Special packaging can also be realised, such as loading reusable transport packaging crates.
The guests then praised the many creative technical solutions and the interface-free overall solution from a single source that the vision system offers – from component feeding to the pallet. "The greatest appreciation goes to the entire team that developed, designed, and commissioned the system with total commitment and idealism," says Olaf Horrenberger from the Schubert-Cosmetics management team.
A successful event for guests and hosts
"Schubert listened very carefully to us and once again implemented exactly what we needed," says Walter Bergen, Technical Manager at Dr. Kurt Wolff GmbH & Co. KG, who was impressed with the result.
The guests were also given a behind-the-scenes look into Schubert's Cobot laboratory where the experts from the family business are working on the first in-house "Cobot", an industrial robot without a protection zone. The so-called tog.519 is suitable for pick & place applications and for separating low weight products.
At the end of the in-house exhibition, customers and interested parties drew a thoroughly positive conclusion. Josef Böhm, plant manager at Emil Kiessling GmbH, summed it up: "The innovations that Schubert-Cosmetics presented to us today are precisely tailored to our products. We already have three Schubert packaging systems in operation. I could certainly imagine that the new machine with its integrated filling line presented today could represent an excellent investment in the future for Kiessling."
Companies in this article