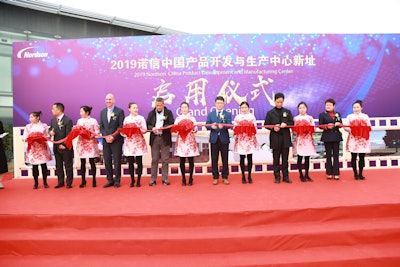 This wholly owned new complex includes space for expanded manufacturing, research & development, and design, as well as customer focused laboratories. It supports the segment's long-term vision of disproportionate growth in Asia.
Nordson has had a long history of success in China, first opening a sales entity in 1995 followed by a China manufacturing operation in in 1997.
"China continues to be a growth engine for Nordson commercially, as well as a base for technical excellence in Asia. We are excited to support our Asian customers by investing in this new Shanghai product development and manufacturing center," said Greg Merk, senior executive vice president, Nordson Corporation.
To facilitate customers interaction and workforce stability, the new campus is located in a Shanghai 104 certified industrial park within close proximity to Nordson Chin's administrative headquarters.
"This facility will provide an infrastructure for the development and manufacturing of global products as well as create an Asian technical COE for our customers to draw upon. We are excited with the new possibilities this center provides as it allows us to ensure the customer experience is consistent across the globe."
Companies in this article
Videos from Nordson Corporation