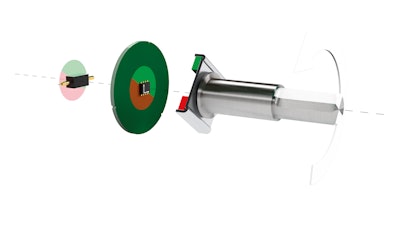 Magnetic rotary encoder technology uses a noncontact detection principle, which eliminates the need for glass disks used in pulse generation. Magnetic rotary encoders have no mechanical gearing, so there's no unpredictable wear. Therefore they are unaffected by environmental influences.
These absolute rotary encoders are based on a magnetic detection principle and use a two-axis Hall sensor, which measures changes in the magnetic field allowing the angular measurement to be generated by the encoder electronics. In addition to the Hall sensor, a Wiegand sensor has been added, turning these single-turn absolute rotary encoders into multiturn absolute rotary encoders. When a permanent magnetic field near the Wiegand sensor is rotated, it generates a change in the direction of the magnetic field in the core of the Wiegand sensor, and in turn, creates an induction voltage in the coil around the sensor. In this way energy is transformed and used to supply power to the electronics to enable counting of the shaft revolutions. This eliminates the need for an internal battery to supply power to the electronics and means that the rotary encoders will not lose full-turn rotational data when power is removed. Therefore, accurate position values are available after power is reapplied.
In addition to high reliability and a long service life, this Wiegand multiturn sensing technology enables more compact designs. The integrated Wiegand sensor can replace the multiturn mechanical gears, saving space and creating a unique, compact multiturn magnetic rotary encoder with housings as small as 36 millimeters in diameter.
This new generation of encoders provides state-of-the-art 14-bit Hall sensors, optimized magnet technology, and special software modifications that permit accuracies of up to 0.1° with single turn resolutions up to 16 bit and multiturn resolutions up to 16 bit.
Companies in this article