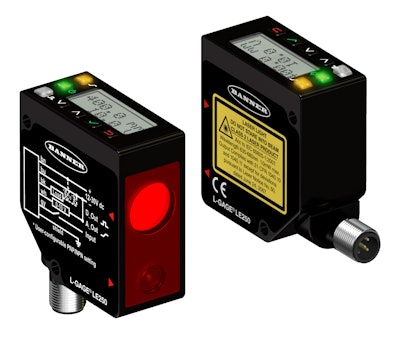 Part of the company's L-Gage LE family of laser sensors, the LE250's linear array provides reliable detection and measurement across a wide range of difficult targets, from black rubber to shiny metal. With a resolution of 0.02 mm out to 250 mm and a resolution below 0.2 mm out to 400 mm, the LE250 provides the repeatability and accuracy for solving applications where precise dimensional measurements or positioning are needed.
The LE250 also features a smaller spot size, approximately one millimeter, which is suitable for small part detection, and provides more consistent measurements for applications that present varying colors, including multicolored packaging.
The LE250 operates with an intuitive two-line, eight-character display, allowing easy readability, quick adjustments, and simple menu navigation. The visible red, Class 2 laser beam and small spot size help ensure quick setup and alignment. Features like delay timers and averaging trigger functions can reduce PLC programming time and help get an inspection up and running sooner.
The LE250 is also available with an optional metal, rotatable connector and multiple mounting bracket options, allowing operators to save time and money while accommodating flexible application requirements.
Enclosed in a rugged, die-cast zinc housing and IP67-rated polycarbonate lens cover, the LE250 helps ensure optimal performance in demanding environments. All models meet Military Standard 202 G requirements method 201A, in addition to IEC 60947-5-2, to withstand applications subject to vibration or shock.
Companies in this article