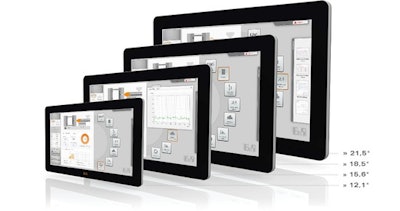 There are numerous gestures that might be used in an application: 

Zooming in and out and rotating objects with two fingers, scrolling lists (panning) and switching to the next screen with a quick swipe (flick). The main advantage of multi-touch technology is how it makes operation more intuitive. It also provides an effective method of preventing operating errors, simply by requiring two-hand gestures for critical or potentially dangerous operations.


B&R's full range of Panel PC 910 processors ­ from the single-core Celeron® up to the quad-core Core i7 ­ provide a versatile selection of CPU performance levels to make it the best platform for any application.
Highlights:
3rd generation Intel® Core™ i-series processors
Projected capacitive multi-touch screen
Displays from 12.1" SVGA to 21.5" Full HD
2 x Gigabit Ethernet | 2 x RS232 | 4 x USB 3.0
High Definition Audio
HDD/SSD
2 modular interfaces
Integrated UPS o Up to 2 PCI / PCI Express slots
High-quality design
Anti-glare glass
Excellent gliding properties
Scratch-resistant surface
Easy to clean
Gloved operation possible
Slim design
Companies in this article
Videos from B&R Industrial Automation