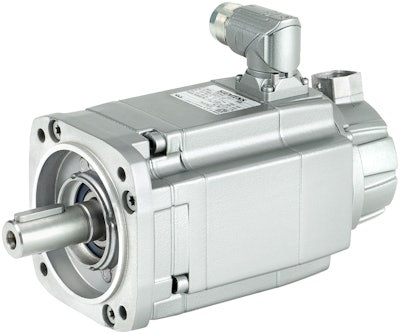 The Generation II servomotor offers three inertia versions — standard, high-dynamic for rapid acceleration jobs, and high-inertia for maximum smooth running. These motors are designed for operation without external cooling and the heat is dissipated through the motor surface. With 10 styles of field-replaceable encoders, the 1FK7 Generation II servomotors provide easy maintenance in the field, with reduced downtime and operating cost savings. A 10% improvement in continuous (S-1) power is achieved since the encoders are mechanically and thermally decoupled from the motor. The mechanical decoupling also means the encoder is more resistant to vibration conditions on the machine. In addition, there is no need for battery back-up on the absolute encoders.
Generation II Simotics 1FK7 servomotors provide users with 3x overload; 2.5% torque ripple; cross profiling for easier mounting; Siemens Drive-Cliq interface for easier field commissioning; unit recognition with the Siemens Sinamics S120 drive family; plain shaft or keyway design; three IP ratings; and are supplied with or without holding brake.
The leadtime will ultimately reduced to three-weeks beginning January 1, 2014 on all models.
Companies in this article