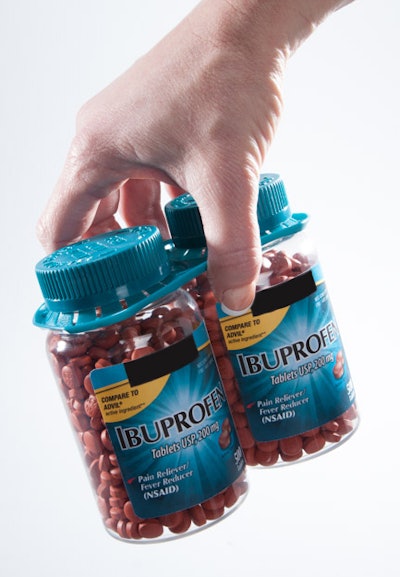 PakTech's TwinPak handles are suitable for use with pharmaceutical and vitamin manufacturers' bottles. Since 2010, the company has sold more than 10 million TwinPak handles to club store customers that require a bundle of pharmaceutical bottles, most commonly for multivitamins and ibuprofen.
PakTech'sover-the-top handles allow consumers to easily read labels, grab multiple products, and release them as needed. The unused containers remain in an intact bundle without losing the integrity of the package, and PakTech handles reduce the need for additional packaging, providing an overall waste reduction.
TwinPak handles are injection molded, and they are made with 100% recyclable, post-consumer recycled (PCR) HDPE. According to the vendor, low-waste, recycled handles are a sustainable secondary packaging solution.
In addition to their proprietary, injection-molded, recycled HPDE handles, PakTech provides automated application equipment for any speed requirement.
Companies in this article