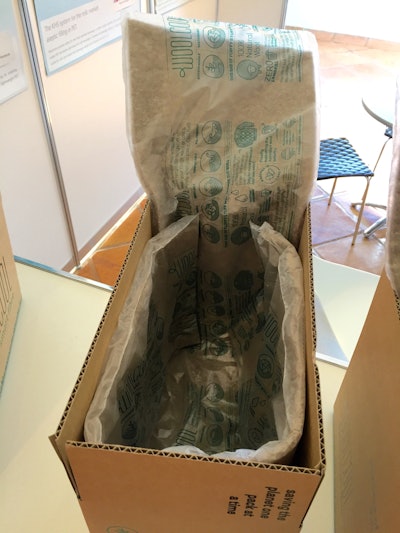 A relatively new insulation material drew the attention of conference attendees because of its unusual source: 100% lamb's wool. To be precise, it's the wool that grows around the lamb's belly. Traditionally viewed as having little to no value, it usually winds up in the landfill. But for the last seven or eight years, Woolcool of Australia has been felting it into long sheets that are cut and encased in a microperforated recyclable food-grade polyethylene. These wrapped sheets then go inside a corrugated case, where they outperform other insulating options for transporting temperature-sensitive goods, says Woolcool. The firm says that when used with ice packs to establish the required cool temperatures for packaging food, Woolcool insulation has been proven to keep content packed at 1°c chilled below 5°c for at least 24 hours. Woolcool is sustainable, recyclable, compostable, and biodegradable. This insulation material has applications across many industries, from food and beverage to veterinary and pharmaceuticals. But it may wind up fitting especially well in the expanding e-commerce sector, where shipments of fresh food are expected to grow rapidly. Woolcool calculates that compared to using the expanded polystyrene frequently used for insulation, this repurposed sheep's wool solution brings a 70% saving on movement/storage because the sheets can be shipped flat-packed. As for meal kit firms that have used Woolcool, the list includes My Food Bag in New Zealand and Hello Fresh in Australia, Europe, and the U.K. The cost of Woolcool is said to be comparable to EPS foam.
A cleverly designed standup pouch that looks a lot like a glass jar was shown by Omniverse Foster Packaging Group. It contained 500 g of Blueberry Muesli from Melbourne-based The Jar Co. The clear pouch provides full product visibility while a Zip-Lock reclosure feature makes it easy for consumers to reclose the pouch. The Jar Co. wanted a novel look, and because it's a start-up, the firm couldn't afford to deal with a pouch supplier that would stipulate minimum order quantities. This made Omniverse Foster just the right match, as their specialty is serving customers with precisely those needs.
Making the pouch begins with digitizing a photo of a clear glass jar with a gold-colored threaded closure. To this file is added the front- and back-panel graphics. The file then goes to a printer who uses an HP 20000 to digitally print the graphics on a two-layer adhesive lamination of polyester and low-density polyethylene. Two rolls of printed film—the front of the pouch and the back of the pouch-- go to Omniverse Foster, where a custom pouch-making machine marries the two in register and produces finished, zippered pouches.
Meanwhile, over at the Sealed Air display, a highlight was packaging holding Hommas from Australia's Obela Fresh Dips & Spreads Pty Ltd. The 220-g thermoformed container--not made by Sealed Air--gets a clear flexible film lidding material that is a multilayer coextrusion from Sealed Air called Cryovac Sealappeal PSF ZAL. This material was selected by Obela primarily because its unique heat-sealing layer peels so smoothly from the flange of the container in the consumer's hands. The other key benefit is that the film enables best-in-class optics and presentation, enabling consumers to clearly see the product. The wide, low-temperature sealing window of 110 deg C delivers a tear-free peel as well as excellent seal strength while reducing energy consumption throughout production.
Another notable standup pouch was on display at the Auspouch booth. Holding 180 g of fruit chunks sold in the 7Eleven chain in Japan, the hot-filled pouch gets at least a one-year shelf life thanks to the gas barrier materials incorporated in the structure as well as the oxygen absorbing layer that's included. Mitsubishi makes the pouch by feeding two rolls of multilayer films into an unidentified pouch-making system. One roll, a three-layer adhesive lamination of SiOx/polyester/nylon, becomes the front, which includes a clear window that showcases the product inside. The other roll, a four-layer adhesive lamination of PE/Ageless oxygen absorbing layer/EVOH/nylon, becomes the back of the pouch.
Companies in this article