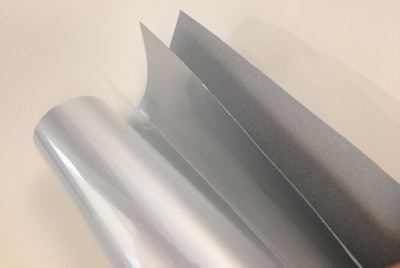 Mitsubishi Gas Chemical America presented an oxygen absorption technology at PACK EXPO Las Vegas that promises to more than double the shelf life of some food products. The technology is particularly relevant for organic and natural food brands looking for shelf-life extension solutions, including in the baking and snack space. This technology comes in the form of a resin that can be layered into any barrier film to provide oxygen absorption. It reduces oxygen levels within a sealed container down to 0.1 percent or less, without the need for gas flushing or sachets. Up to now, Mitsubishi has only offered this technology as a fully formed film, so making it part of a multilayer structure could only be done by way of lamination. But now it's available as a resin, which means that packaging converters can incorporate the resin into innovative new formats by way of coextrusion if they choose to.
Mitsubishi marketing and sales manager Sean Hael points out that this technology is especially beneficial for retort applications. The retort process can be very harsh on foods because the intense heat in combination with the oxygen in the product and in the headspace dramatically alter a food's taste, color, and texture, as well as its nutritional value. By absorbing oxygen during retort, food is protected from this degradation and shelf life is improved considerably.
This technology is well-suited to the organics market because it meets the specific demands of consumers, brand managers and retailers. Consumers of organics want fresh-tasting, wholesome food with as few added ingredients as possible. In addition to meeting these customer needs, brand managers and retailers want shelf stability to save on costs and minimize waste. By putting oxygen absorbing technology within the package, you can satisfy all of these multiple demands: a clean label, great-tasting food, and extended shelf life and reduced waste.
Companies in this article