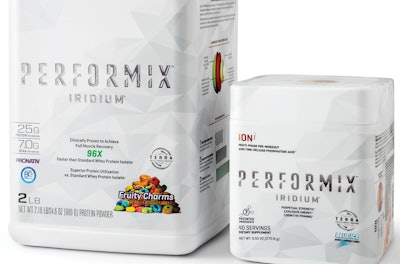 TricorBraun also supplies the injection molded polypropylene lids for both the 32-oz and 2-lb containers.
"The Iridium product line was built to sharpen your edge and catalyze physical intelligence," says Performix CEO Matt Hess. "The Performix brand is built around disrupting the space and bringing new benefits to sports nutrition, and the packaging had to reflect the ground-breaking product within. We chose to work with TricorBraun because they have shown a propensity for being able to visualize and achieve breakthrough packaging to disrupt the sports nutrition category. Plus, they are fantastic innovators."
Performix's category audit reaffirmed their decision to move forward with a square tub as opposed to the standard industry round. TricorBraun provided multiple options. "They've been fast to make changes, provide dates they can commit to, and ultimately speed our time to market," says Moore. "They gave us the technical direction we needed to minimize cost and control our COG (cost of goods) while satisfying our design requirements and vision." Moore says TricorBraun also helped immensely when it came to managing inventory, streamlining logistics, and getting containers shipped efficiently to co-manufacturers.
When asked about the technical challenges of a square bottle, Doug Peterson, TricorBraun packaging consultant, explains, "There were a few with both the 2-lb and the 32-oz, but it's all in a day's work."
Both container sizes are available since 2016 at GNC stores and online, where the 32-oz version sells for about $45.00.