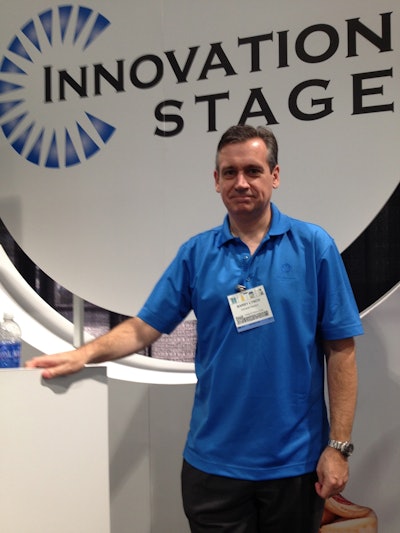 According to Barry Lynch, CPG Manager for GE Intelligent Platforms, Charlottesville, VA., speaking at Pack Expo 2013, digital networking has for decades connected people and businesses, and today's industrial Internet is doing so with much greater depth, and profitability. It's not just plant automation systems but entire business information architectures that are increasingly able to leverage the power of the industrial Internet. This is an open global network that not transcends previously open but limited standards for plant communications.
In an interview with Packaging World following the presentation, Lynch said GE has been using and evolving its own use for the industrial Internet, "connecting machines, getting data and delivering that to people. And we've used it in our own business for the last several years to improve our own to improve our own manufacturing productivity and capability, and now we're looking at impact on manufacturing, and helping manufacturers adopt and take advantage of it to help them in their business."
He says the keys are getting real-time data from machines, using smart analytics to help understand the costs and challenges of manufacturing at the lowest level, and having that data filter up into financial analyses. Three areas of benefits include:
1. Helping manufacturers reduce the cost of goods sold through a better understanding of the real, or more detailed, cost of manufacturing, including labor, utilities and raw material inputs;
2. Helping manufacturers defer capital expenditures by getting "more out of what they already have" in terms of measuring and improving operations for greater productivity and reduced downtime; and
3. Helping manufacturers grow their businesses by reducing costs of inventory stock levels and improving profits to be more competitive in a global marketplace..."to help them make things faster, cheaper and with higher quality than ever before."
One key issue in the adoption of industrial Internet technology is that "connectivity isn't the end game...there has to be a purpose, or a business benefit doing this," he said. He says that in working with CIOs, or chief information officers, technology providers help identify those business goals, rather than focusing on "the bits and bytes, or techie stuff." He adds that knowing what data to take, knowing how to analyze that data, and knowing how each person, in the appropriate role, uses that data, is key to a cost-effective solution that spans plant or factory floor to executive office and supply chain.\
Packaging professionals tend to be conservative spenders on technology, but as other new technologies, from iPads to "cloud" or computing or SAAS (Software as a Service) take hold, industrial Ethernet, backbone standard of the Internet, is becoming mainstream, and costs are coming down to the point where automation products almost universally provide as standard some sort of Ethernet standard ready for manufacturers to exploit.
Companies in this article