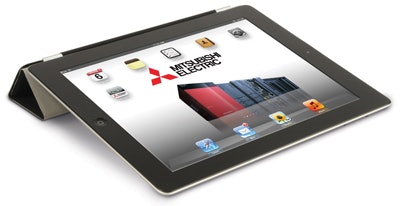 Warehouse management control has never been so seamless as with Mitsubishi's Warehouse Control System (WCS) solution. From January 21st through 24th, 2013, Mitsubishi Electric Automation will showcase the latest in automation hardware suited to the material handling, supply chain, and logistics industries at its "Products that Deliver: Performance, Scalability, Visibility" exhibit, located at booth #447 at the Promat show, being held at Chicago's McCormick Place.

"Exhibiting at Promat gives us the chance to have direct and open discussions around the many challenges our end-user customers face while tackling difficult operational issues," said Donald Edsall, Sr. Business Development Manager, Mitsubishi Electric Automation.

"The addition of robot integration within the warehouse automation architecture is an exciting new consideration for us. There is a growing trend in operational tasks where technology advancements intersect with application feasibility, resulting in a more efficient and cost effective option," Edsall said.

Several features of Mitsubishi Electric's products include:
- iQ platform controllers/PC controllers for warehouse control solutions
- CC-Link and Ethernet for networking
- New decentralized drives and IPM motors with VFD for energy savings

Visitors to the Mitsubishi booth can take a guided tour through the many facets of the WCS platform, during which they can place an orders for free gifts into the Mitsubishi Electric order- fulfillment robot demo. In addition, an iPad will be given away daily the first three days of the show. All you have to do to enter the raffle is tour the Mitsubishi Electric booth, complete an entry form and deposit it in the drawing container. Winners will be notified by email within ten (10) business days. Prizes will be shipped to the winners within six (6) weeks of the close of the show.
Companies in this article