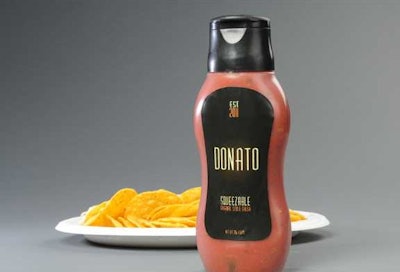 It seems like it would be easier to squeeze salsa from a plastic bottle instead of spoon it from a jar. Or shop for shoes if they were hanging in clear plastic pouches instead of stacked in boxes. Or put holiday lights in a reusable package rather than throw them into a tangled pile.
Three teams of University of Wisconsin-Stout students thought so, and a panel of national judges agreed. These innovative ideas swept the first three places in the student division of the national AmeriStar packaging competition, sponsored by the Institute of Packaging Professionals. UW-Stout not only took the top-three national awards, but also claimed two of the three honorable mention awards. UW-Stout also took first place last year.
The competition called for a package redesign of an existing product. "The top three entries were all well thought-out ideas that really addressed a major concern identified by each of the student teams," says Robert Meisner, UW-Stout assistant professor who taught the Package Development class that produced the entries. "I knew all of my students' designs were strong, but to sweep against so many other creative packages from other great schools was a real surprise.
"I push the students to look at more than one aspect of the package. By this I mean I ask them to address more than just the structure and think of how their package will affect other aspect of the business like marketing, logistics, purchasing, manufacturing, legal, and environmental concerns."
Winning entries
The First Place winning entry, Squeezable Salsa, was designed by Bill Connell, of Chippewa Falls, WI; Aaron Duch, of Brookfield, WI; and Brad Froyum, of Wanamingo, MN. They had eaten enough chips and salsa and had been to enough taco bars to know that there was a more convenient way to serve the popular condiment. As part of their research, they conducted a survey on Facebook and received positive consumer feedback from other students.
Their biggest challenge was designing a spout that would allow vegetable chunks in the salsa to freely flow out of the plastic container. They experimented with different shapes and sizes of openings before choosing a large, tear-drop style, similar to that on coffee creamer containers. Says Froyum, "The salsa juice and chunks flow out very nicely."
Their container, holding about 20 oz of salsa, has an hourglass shape to fit into the palm of the user's hand. The entry was designed using 3D and other computer software programs. It had to include manufacturing specifications and a written proposal. They added a label, which was designed by Katelyn Peissig, of Abbotsford, WI, an art student with a graphic design concentration.
"This project brought together everything from manufacturing to testing to shipping aspects of packaging," Connell said.
Connell and Froyum are seniors who recently graduated with majors in packaging. Both have landed jobs as packaging engineers, Connell with Kimberly-Clark of Neenah, WI, and Froyum with Lake Region Medical in Chaska, MN. Duch, a senior who will graduate in December, spent this spring interning at Milwaukee Electric Tool.
Second place in the contest went to UW-Stout's Airless Kicks entry. Shoes in clear plastic pouches would reduce shipping costs by 20%, reduce waste, improve product marketability, and improve package moisture control, according to the student designers. Team members were Joseph Douglas, of Hudson, WI; Garret Larson, of Maplewood, MN; and Michael Mordick, of Hudson, WI.
Third place went to UW-Stout's entry Stringy Solutions. Consumers who buy holiday lights in a clamshell-style, rigid plastic container can reuse the package to rewind the string and store the lights, saving space and reducing waste. Team members were Craig Hable, of Jim Falls, WI; Lindsey McClure, of Plymouth, MN; and Dylan Schmidt, of Chilton, WI.
UW-Stout's honorable-mention entries were for a spirits bottle with a shot-size measuring device in the spout and a stylish shoebox made from a single sheet of corrugated fiberboard without glue and with handles.
"I was impressed with the teams' research to substantiate the shortcomings of the existing packages in the market and to develop a package that focused on improving on as many of the shortcomings as possible," Meisner says.
Editor's note: The above was provided by University of Wisconsin-Stout. For more information on the university's packaging program, contact Robert Meisner at 715/232-2138 or meisnerr@uwstout.edu.