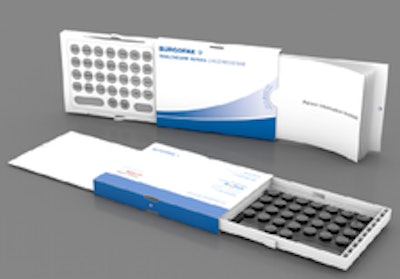 Two awards were announced Feb. 16 at the Pharmapack Europe exhibition in Paris. The awards were given to the most innovative packaging developed for drugs, veterinary products, and devices placed on the French market between December 2010 and 2011. 
The Pharmapack "Safety" Award Hospital product went to K-Pack Surshield™, from Terumo. It is an innovative hypodermic needle with an integrated passive sharps protection feature for use with prefilled syringes. The challenge was to design a new-generation of prefilled syringe that incorporated a high level of protection with ease of use. The Surshield doesn't require any training to be used, and it's impossible to skip a crucial step in order to activate the device.
Meanwhile, the Pharmapack "Child-Resistant" Award was given to Burgopak for the Child-Resistant Slider. The new packaging development is based on the original Burgopak design. The blister and product information are exposed at opposing ends of the pack when the user simultaneously pushes on two tabs and slides the pack open. The pack is produced on Burgopak's automated machinery and can be supplied to global pharmaceutical and healthcare companies. Achieving F=1 child- resistance and senior-friendliness, the pack conforms with U.S. regulatory standards for poison prevention packaging.
The much 2012 edition of Pharmapack is devoted to drug packaging technologies and delivery systems, offering conferences and an exhibition for the healthcare industry. The event covers topics including innovations in primary and secondary packaging of medicinal and healthcare products, as well as supply chain considerations and challenges. Read here for previous Pharmapack coverage.