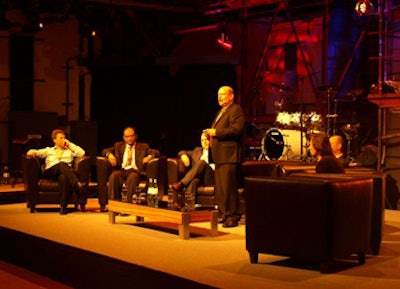 Nearly 300 guests of B&R Packaging Solutions enjoyed the opening evening of interpack more than most. At the Altes Kesselhaus or Old Boilerhouse, the packaging automation specialists presented a combination of expert perspectives on packaging trends and performance arts.
Named interact @ interpack, the program was a fitting start to a trade show that likewise introduces the latest packaging technologies and creative packaging concepts.
B&R general manager Peter Gucher addressed the assembled packagers, machine builders and trade press with his company's mission – to be their global resource for technology to enable the efficient, sustainable production and packaging of consumer goods.
After a musical interlude and vorspeisen, it was time for a distinguished panel that included Bryan Griffen, global automation and engineering manager for Nestlé; Irshad Khan, automation and packaging manager for Pactiv; Thomas Reiner, CEO of packaging consultancy Berndt and Partner; Maurizio Tarozzi, global packaging technology manager for B&R; Lars Lundquist, responsible for environmental assessment of packaging for Nestlé; and moderator John Kowal, packaging market development manager for B&R.
The panel introduced a number of topics that will impact the future of packaging, from environmental to demographic challenges, along with solutions ranging from international standards to innovation. Audience response was positive, and the evening continued with dinner and lively conversation among the speakers and guests.
For B&R, interact @ interpack served as more than a hospitality event. It signaled the next stage in their Packaging Solutions group's expansion to a global organization chartered with enabling packaging strategies in the dual context of universal and market-specific requirements.
See it on YouTube: http://www.youtube.com/user/BerneckerRainer?blend=23&ob=5#p/c/E12648FD102390E5