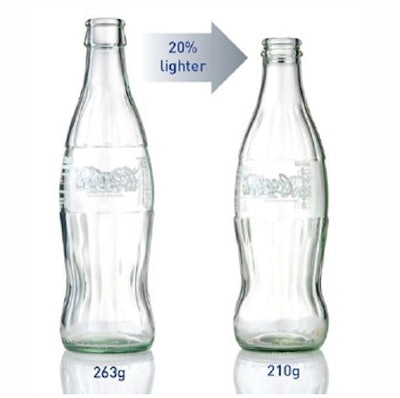 As with many articles, an editor may start out with little to go on, and then ends up with more than he or she can use. Thus good, if not excellent, material can end up in a folder, either physical or electronic.
Such was the case in a special report
Green packaging in Europe: The view from the U.K.
, published in
Packaging World
's December issue. During my research, I connected with the U.K.'s
Waste & Resources Action Programme
. WRAP provided me with a recent publication filled with case history examples of gains in reducing environmental waste by its members, primarily packagers and retailers. The third example in this series is from Coca-Cola Enterprises.
Courtauld Commitment Signatory Example – Coca Cola Enterprises Ltd
Coca-Cola Enterprises Ltd has reduced the weight of its iconic 330-mL glass Contour Bottle by one-fifth, an initiative that will save more than 3,920 tons of glass and an estimated 2,464 tons of CO2 per year.
All new 330-mL glass bottles of Coca-Cola, diet Coke and Coca-Cola Zero have been reduced from 263g to 210g using new specifications known as the 'Ultra' design. This retains the bottles' trademark dimensions and maintains quality and strength while significantly improving environmental performance.
The company has also worked with its suppliers and WRAP to reduce the weight of its 500-mL PET bottles to just 24g, which will cut the amount of PET plastic used by 784 tons per year. This included redesigning the preform bottle from which other bottles are produced and modifying Coca-Cola Enterprises' manufacturing sites in Sidcup and Wakefield.
Comment from Coca-Cola
"Our work to reduce the weight of our bottles demonstrates how packaging can be optimized without affecting customer perception, product quality or brand values.
"We are always looking for ways to reduce the impact of our business on the environment and are prepared to adapt even our most precious assets, including the Contour Bottle.
"Our partnership with WRAP as part of the Courtauld Commitment is a key part of this and we look forward to continuing our work with the team to seek further sustainable packaging solutions."
Erika Coghlan, VP Corporate Affairs