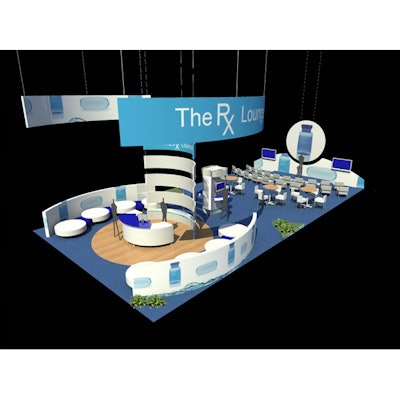 A specialty pharmaceutical pavilion located in the Central Hall at the Las Vegas Convention Center will provide a "logical starting point" for pharmaceutical attendees during Pack Expo Las Vegas Sept. 26 – 28, according to show producer PMMI.
The show floor will be open between 9 a.m. and 4 p.m. each of the three days, with 1,600 suppliers and 25,000 attendees. The event will showcase packaging and processing machinery, processing equipment, operations software, packaging and converting machinery, materials and containers, as well as advances in secure packaging, printing and graphics, and instrumentation.
The Pharmaceutical Pavilion, which will target serialization, track-and-trace, brand protection, and anti-counterfeiting technologies, illustrates an intensified level of customer service that Pack Expo/PMMI calls "customer-centric."
"A customer-centric approach means that we are looking at all aspects of the show down to the floor plan to make sure our attendees--and by extension our exhibitors--get the greatest possible return on the time and resources they invest in attending Pack Expo," said Chuck Yuska, PMMI's president and CEO. "Pavilions are helping achieve that goal, because they give attendees focal points for their various needs. We've had a great reaction to the Pharmaceutical Pavilion at Pack Expo Las Vegas 2011 come from attendees and exhibitors."
There will be a separate Rx Lounge (shown above) on the show floor from the Pharmaceutical Pavilion where attendees can go for specific education session and targeted programming.
"I find it important to attend every Pack Expo show because it is an invaluable networking opportunity to meet new suppliers and learn about new machines and materials that we can invest in," said Then T. Deng, associate director, packaging services, Pfizer.
"Pack Expo is a great way to evaluate all the technology that's in the marketplace," said Mark Eisenhard, director of operations, Oliver-Tolas Healthcare Packaging.
Gail Oakley, sales coordinator for Körber-Medipak, said her firm is excited about exhibiting in the Pharmaceutical Pavilion. "We get very good customer feedback from Pack Expo, so it's very important to be in the right spot and to be seen," she says, noting the benefits of exhibiting in a pavilion. "People will go to an area of concentration. And when they do, they are more likely to come by and see you--even without an appointment."
Conference agenda, too
Beyond exhibits, Pack Expo Las Vegas will host conference sessions. Click on the Conference Sessions tab on the Pack Expo Web site to learn more about them.
Specific focus for pharmaceutical and medical device attendees are the following sessions:
• "The Real World of Project Management: A Cross-Industry Perspective on Best Practices in Managing Complex Projects": 9 - 10 a.m. and 10:15 - 11:15 a.m., Monday, Sept 26.
• "Good Automated Manufacturing Practices (GAMP) in the Pharmaceutical Industry": 11:30 a.m. – 12:30 p.m., Monday, Sept. 26.
• "Packaging Start Up & Qualification: A Pharmaceutical Industry Perspective on the Project Management Considerations Related to Product Packaging": 2 – 3 p.m., Monday, Sept. 26.
• "The A to Z Cookbook of Implementing an Effective Serialization Program": 3:15 - 4:15 p.m., Monday, Sept. 26.
• "Energy Saving Projects: A Pharmaceutical Industry Perspective on Sustainability Including Case Studies and Tools for Saving Energy—Part 1": 12:45 – 1:45 p.m., Tuesday, Sept. 27. (Part 2 is scheduled for 2 – 3 p.m., Tuesday, Sept. 27.
• "Case Study: Medical Device Packaging": 9 – 10 a.m., Wednesday, Sept. 28.