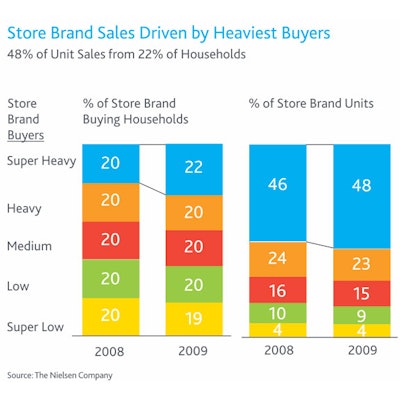 Private-label's growth and evolution isn't letting up, according to new research from the Nielsen Co. Retailer's own brands now account for nearly 20% of the dollar share and more than 20% of the unit share moving through the checkouts at stores across the U.S. And private label is continuing to add on to already impressive numbers in Europe.
In the U.S., store brands grew to a notable 17.3% share of dollars and a 21.9% share of units at the end of March, Nielsen says. That compares with 15.2% share of dollars and 20% share of units in 2007.
Nielsen's study across North America and Europe found that on the whole, two-thirds of the 21 countries analyzed picked up an average of 1.3% share points for private label during 2009.
However, Nielsen noted, national brands overall still were the dominant force, controlling 82.7% of the dollar share and 78.1% of unit sales. In addition, the company said, national brands "demonstrated consistent, gradual improvement" during the second half of 2009. In the second half of last year, retailer brand unit sales increased 2.5% while national brands saw incremental growth of 0.4% Nielsen attributed the improvement of national brands to increased emphasis on promotional support, which includes packaging.
"No matter which direction the economy takes, consumers have had a taste of life in the store-brand lane, and they like it," the Nielsen report says in summary. "Expect store brand quality to climb, along with price points, while the store-brand SKU list expansion continues offering premium and unique items never before available."
Also notable in the Nielsen report:
• Private-label products captured at least a 20% unit share in 48 of 117 categories studied. Share ranged from 40% in the dairy department to less than 1% for alcoholic beverages.
• Significant real price gaps between store brand and national brands present an opportunity to drive category sales by narrowing the gap in select categories, such as those with a high consumer value perception. Package design is one factor that could help products find the right niche that helps close the gap.
• Heavy buyers of private-label products represented 22% of households and accounted for 48% of private-label sales in 2009, compared with 20% of households and 46% of retailers' own-brand sales in 2008.