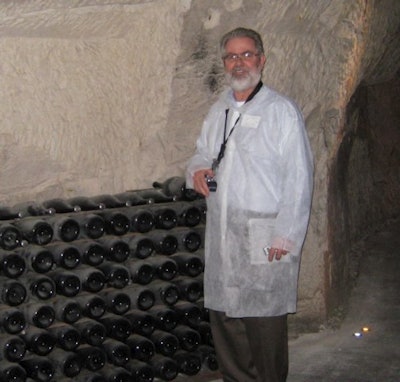 I knew it was time to go home when my taxi pulled into the Toulouse airport and I woke from a badly needed snooze convinced I was back in Paris.
But aside from that little where-the-heck-am-I episode, my Tuesday-Friday jaunt through France has been enlightening to say the least. What did I learn about packaging in my Paris-Reims-Toulouse-Paris swing? I was reminded that innovation trumps all. The remarkable robotics I saw at Veuve Clicquot Ponsardin in Reims was one example. Changeover times at this leading champagne producer have been slashed, ergonomics issues have been neatly addressed, automation has been maximized, and speeds once unimaginable are now being reached on a regular basis. I even got to see, beneath the manufacturing plant, the remarkable caves in which the champagne is turned and aged. Fascinating stuff, I have to tell you. (Yes, that's me in the snappy white peignoir.)
It was also nice to meet a few of the other packaging journalists who were along on the trip to VCP. I even got to reconnect with a few members of the International Packaging Press Organization that I hadn't seen in awhile. Seeing them again was a reminder that I'm slated to become IPPO president at interpack 2011. I'd like to say I have an idea or two about how to make an already great organization somehow better. But the past few presidents have done such a great job that I'm afraid I'm not worthy of carrying their pencil cases much less making IPPO better.
While we're on the subject of IPPO and past presidents, maybe I should take this opportunity to give my old friend Bob Heitzman a little shout-out. By the way, Bob, did you know that your smiley visage still beams out at us from the masthead of Packaging Digest? I don't mean to be critical, seeing as you're the guy who hired me into the packaging press in the first place way back in 1983. But from everything I've heard, you're no longer an active part of the Packaging Digest package. Can't help but be curious about that photo on the masthead.
One thing about IPPO I will say—I miss the Inward Missions. The funding sources that once made them possible have pretty well dried up, it would appear. Maybe the post recession recovery we've all been promised will bring those to us again.
Getting back to France, the second plant I visited wasn't quite as historic as VCP. But the spirit of innovation was equally alive. Imagine how challenging it must have been to take a plant considerably smaller than its regional counterparts within the organization and, by investing in new packaging technology and by bringing about a cultural change at the personnel level, making it every bit as productive as those larger plants are. I've been asked not to mention the name of this firm in my blog, but stay tuned to the pages of Packaging World. I'll be reporting on this installation in the new year.
Speaking of the new year, let me wish you all a Happy New One.