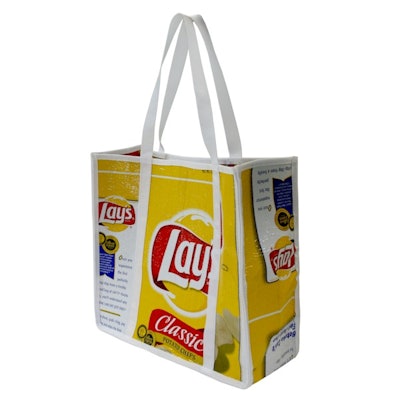 Frito-Lay North America, Plano, TX, a division of PepsiCo, has announced a new partnership with TerraCycle, Inc. (www.terracycle.net) an upcycling company that will take used packaging from Frito-Lay snack products and turn them into affordable, quality goods. Through this joint program, consumers and local community groups can earn money by collecting the used packaging, and at the same time redirect packaging from landfills.
Over the past few years, Frito-Lay's packaging initiatives have made some significant strides. This includes reducing the amount of plastic in packaging by 10% and, over the last five years, eliminating 12 million pounds of materials used to make the snack bags. This month, the company announced that in 2010 its SunChips brand will be introducing a fully compostable bag made from plant-based renewable material (see related story, SunChips to use compostable PLA bags). Marking the company's latest effort, Frito-Lay notes that it will be the first snack food company to fund the collection and upcycling of its used packaging.
"Consumers interact everyday with our company and our brands through packaging," says Gannon Jones, vice president, Portfolio Marketing, Frito-Lay North America. "The TerraCycle program builds on our existing efforts to minimize the impact of packaging, while also engaging and rewarding our consumers for being part of the solution."
The company is asking consumers to form Chip Bag Brigades; for every bag a brigade collects and sends to TerraCycle, Frito-Lay will donate two cents to their charity of choice. Initially, there will be 1,000 collection sites, and more are expected to be added during the year. The goal of the program is to engage at least 150,000 people and divert more than 5 million bags from landfills. Consumers can learn more about forming Chip Bag Brigades at www.fritolay.com/terracycle.
The packaging from all the company's popular brands, such as Lay's potato chips, Doritos and Tostitos tortilla chips, and Cheetos cheese-flavored snacks, will be used to make quality, affordable products such as purses, pencil cases, and tote bags, which will be available at major retailers like Walmart by late 2009.
Source: Greenerpackage.com