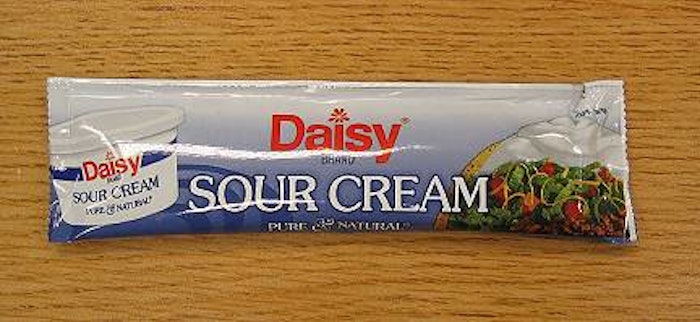 Introduced in April, the portable, squeezable packet provides the same portion control as the cup, yet with a 12-week shelf life, 50% more than before. Each packet is clearly marked with a laser-etched date code along a side seal.
Daisy states that the packet eliminates the need for utensils and waste, provides compact storage, and is suitable for "to-go" orders.
Measuring 5 1/2''x1 5/8'', the packet features a tear-notch opening for convenience. Packed 100 per case, the packets are intended to be stored and served refrigerated.
The company's marketing brochure for the packet provides a detailed, graphic representation of the structure. From the outside-in, it is oriented polypropylene/reverse print/adhesive/foil/metallized oriented polyester/adhesive/ethylene vinyl alcohol blend with linear low-density polyethylene.