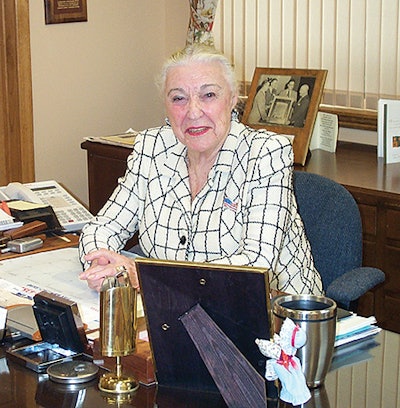 Gottscho was chosen for its long-standing support of college-level packaging education and in particular the company's active interest in and significant financial backing of the packaging program at Rutgers University. Last year, Eva Gottscho (pictured), chairman and president of the privately held firm, pledged $1.5 million toward the construction of a teaching laboratory at Rutgers to be known as the Ira Gottscho Packaging Engineering Laboratory.
"In a region rich in pharmaceutical and other industrial activity, it's critical that Rutgers contribute significantly to packaging innovation, creativity and production. Eva's generosity helps make it possible," says Michael T. Klein, dean of Rutgers, School of Engineering.
Both Mrs. Gottscho and her late husband Ira were inducted into the PEF Packaging Hall of Fame, Mrs. Gottscho in 1986, 13 years after the induction of her husband. (See p. 35 for a Q&A with Eva Gottscho.)
PEF presented the award to Gottscho during the October 13 Packaging Leadership Awards ceremonies held in conjunction with Pack Expo Las Vegas 2003. Proceeds of the event support college-level packaging education programs in the United States and Canada. For further details, visit www.packagingeducation.org, or contact Samara Wolf, program coordinator at swolf@pmmi.org, or 703/243-5717.
Companies in this article