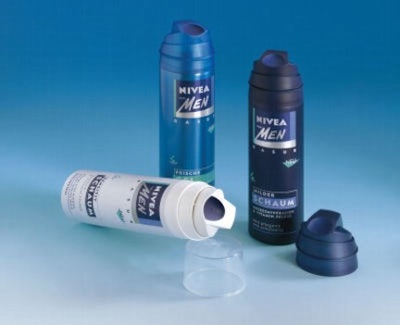 Injection-molded using two shots, the actuator head comprises a hard polypropylene body onto which a soft surface of Santoprene[r] thermoplastic vulcanisate is added. The material is supplied by Advanced Elastomer Systems.
A 55 Shore A grade was selected to provide a non-slip, soft-touch grip even when wet. The supplier for the dispensing pump was not identified.
"The soft Santoprene TPV is particularly appealing to consumers, and provides an excellent contrast to products using only hard polypropylene," says Norbert Menzel, packaging manager for cosmed products at Beiersdorf. "Using the knowledge, experience and support of the AES technical team allowed us to minimize any possible problems during the development period."
Beiersdorf conducted market research testing the new dispenser in comparison to competitive products. "We learned that we achieve a higher quality rating and cosmetic impact due to the soft-touch feel," Menzel says. "The activation of the dispenser is even more convenient in comparison to a bi-colored polypropylene version of the same design."
Companies in this article