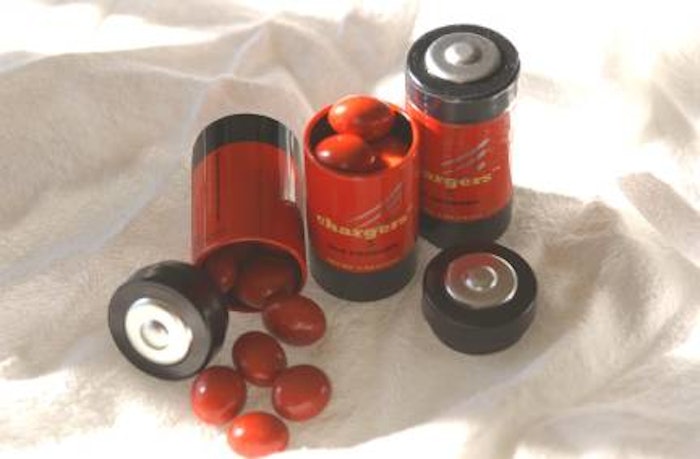 The positively different format permits grab-and-go use that targets college students, skaters, and others who need a quick, sweet caffeinated pick-me-up.
"It's a cool, pocket-sized alternative to energy drinks," says vice-president of marketing Daphne Nissanoff, who runs the company with her mom. Customers comprise three types, she says: people who want to stay awake, people looking for a convenient instant-energy alternative, and people seeking novel packaging.
"Our patented tin is so different from anything on the market that people notice it instantly," says Nissanoff. "Because it's reusable, our brand stays with consumers even when the candy is done. College students store laundry quarters in it. The packaging links the premium energy candy, tin, and Chargers name."
Positives and negative
Ironically, it turns out that the package's biggest asset is also its biggest flaw. Nissanoff says it's a challenge to "get people to realize that what they are looking at is a container, not a battery." A point-of-purchase display features an illustration of a coffee cup. However, Nissanoff says they are designing a more youthful-oriented POP display that will imply "energy" better to consumers.
Major design goals include conveying "energy," keep it pocket-sized and portion controlled, and appeal to a young audience.
Nissanoff, who declines to discuss vendor information, says no design company was involved. The tin, printed in four colors, declares "made in China." The candies are hand-packed in Melate's Los Angeles warehouse.
Sales of Chargers began last Spring at independent college bookstores, online vendors, candy stores, and sports stores. Each pack sells for $1.49 to $1.79.
Positively overwhelming
"The reaction has been overwhelming," says Nissanoff. "Customers' comments pour in saying how clever our packaging is and how great the candy is. The consensus is that people don't just buy one--they buy several for themselves and as little gifts for friends."
In March, Melate made its first order with a nationwide retailer, Cost Plus World Market. "It's received a phenomenal reaction," says Nissanoff. "It's been flying out of their stores. Two weeks after the first order, the chain reordered."
Nissanoff informs Packworld.com that line extensions that are in the development stage will be launched at the All Candy Expo in June.