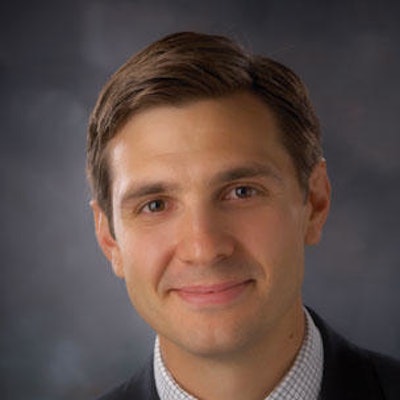 Liquids present unique challenges in shipment. Their dense and flowable nature make them difficult to handle, both mechanically and manually increasing stress levels placed on the packaging used to protect them.
Liquid containment has become such a large problem in the mail network that last July the USPS proposed new requirements for packages containing liquids—you can view them at pwgo.to/5059. E-commerce retailers are also placing additional importance on properly packaging liquids for direct-to-consumer shipments. Amazon, as an example, has a per-unit prep service fee in place for liquid products that do not meet its packaging and prep requirements. It is vital that designers of packaging containing liquid implement performance testing in a proactive manner to avoid these complications and additional costs associated with shipping liquid products through parcel delivery systems.
The real-world interaction between product and packaging is dynamic and extends beyond the primary packaging design into all layers of packaging. Packagers must consider how all these packaging components work together and interact with the product, especially during distribution. Their interaction with the hazards of the environment creates a dynamic situation that cannot be evaluated using individual material tests. Therefore, evaluating and validating the containment capability of a packaging system in the design phase prior to solidifying any packaging material specifications can save significant headaches and cost down the road. Distribution performance requirements for a complete packaged product system should also be included within a packaging bill of materials to help ensure that the packaging design will function as intended in distribution. As with the real-world interaction between product and packaging, the performance tests themselves primarily consist of elements that are dynamic in nature; that is, their occurrences are characterized by fast changes. Shock, impact, drop, and vibration are all dynamic variables, and all can, and do, cause liquid to leak from its packaging. While these tests are enormously important to the evaluation and eventual success of preventing leakage in transit, they are not the only factors that affect the packaging and the products contained. Several non-changing or static factors and quasi-static (relatively slowly changing) factors are also significant, especially when determining how leakproof a package might be. The most common of these:
Atmospheric Temperature: Hot temperatures can elevate internal pressure of sealed packages, soften plastics, compromise seal strength, and weaken adhesion of closure materials. Elevated temperatures can also result in products transitioning from a solid to a liquid or semi-liquid.
Cold temperatures can freeze liquid products and the resulting expansion of the product can put stresses on packaging materials. Packaging materials, notably plastic, are also vulnerable to cold temperatures making once flexible components brittle and susceptible to cracking from stress.
Variations in temperatures such as a transition from a temperature-controlled warehouse to a hot shipping trailer can lead to condensation.
Atmospheric Moisture: Elevated levels of moisture in the atmosphere are absorbed by fiber-based materials reducing their strength and negatively impacting their protective capability. For example, typical corrugated box compression strength, as measured in a laboratory on a compression tester, may be reduced by one-half or more under very humid conditions. When this reduced strength of protective packaging components is combined with the dense and flowable nature of liquid products there is heightened potential for product damage, including leakage.
Atmospheric Pressure: Atmospheric pressure affects packages containing air (bubbles, etc.), and packages that encapsulate the product, such as sealed food or medical device packages. Changes in pressure may serve to stress and weaken seals and potentially expose the product to the surrounding atmosphere. Pressure differentials between the inside and outside of a package may also contribute to leakage of liquid products. This occurs when long-haul trailers or railcars traverse over mountain passes or in unpressurized aircraft cargo holds.
Atmospheric hazards are typically more impactful to packaging performance when presented in combination with other hazards. Cold and brittle plastic, as an example, may not be of much concern until subjected to shock. Liquid containers simultaneously subjected to low pressure and vibration (as often found in transit) are more likely to leak than liquid containers subject to low pressure or vibration independently. Therefore, it is important that these hazards are considered in combination during lab testing to capture their full impact. To permit an adequate determination of packaged product performance at anticipated atmospheric limits, and where it's known that the atmospheric extremes are detrimental to the product, ISTA recommends that the highest and lowest anticipated atmospheric conditions be used to condition the packaged-product for testing. Atmospheric conditioning and vibration under low-pressure are both optional elements of ISTA 3A testing for parcel-delivery shipments.
Brands and suppliers have also started to acknowledge the challenges liquids face in e-commerce by moving away from temporary fixes, like placing packaging designed for sale on a store self into a polybag, and engineering packaging with omni-channel distribution in mind. Rieke, a closure and dispensing solutions supplier, recently unveiled an entire range of liquid dispensing solutions built around e-commerce including a trigger sprayer designed to meet the challenging requirements of e-commerce fulfilment called the "Ultimate E Trigger." The design took Rieke approximately 14 months to develop and validate through distribution performance testing. Henkel, a global household consumer goods company, also recently launched an e-commerce-focused packaging solution designed to prevent leakage of their premium brand Persil in direct-to-consumer shipment. With the help of supplier Weener Plastics, Henkel developed a two-piece dispensing closure that integrates soft sealing elements to help ensure a tight seal and resist impacts throughout shipment. The detergent is also more concentrated, allowing for a smaller product cube, which adds efficiency.
As e-commerce sales of liquid (and non-liquid) products continues its growth, brands and suppliers will need to reconsider their approach to packaged product design by taking a holistic view of the interaction and requirements of both package and product earlier in the design process. The dynamic real-world interaction between product and packaging extends beyond the primary packaging design and into all layers of packaging. In some cases, like Henkel's redesign of its Persil bottle, it may require a combination of package and product modifications to arrive at the most effective solution for meeting both e-commerce customer and performance demands. How packaging components work together and interact with the product needs to be considered, especially during distribution. For this reason, distribution performance testing should be considered as part of your performance-based material specifications. In addition, it's important to consider both the dynamic and static (or slow changing) hazards of distribution as temperature, moisture, and pressure greatly impact a packaging solution's liquid containment ability.
ISTA will be hosting the 2019 ISTA Omni-Channel Packaging Strategies Conference October 2-3 in Chicago. For more information, visit www.ista.org.
Andrew J. Gruber is President of ISTA (International Safe Transit Association).
Companies in this article