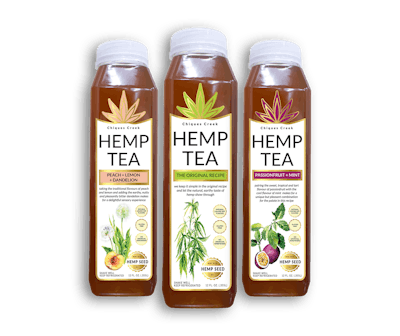 ​​​​​​​Kreider Farms, a Pennsylvania producer of milk, ice cream, eggs, and more, recently launched a unique line of hemp iced tea drinks. Chiques Creek Hemp Tea, now available regionally for consumer purchase at select retail stores, was introduced at the recent Natural Foods Exposition in Baltimore Sept. 12-14.
These specialty beverage products are now ready for national distribution. Kreider Farms invites food and beverage sellers across the USA to join a quickly growing number of their peers including Giant Food Stores, Redner's Warehouse Markets, and many independent operators like Shady Maple and Molly's in carrying the full line of Chiques Creek hemp teas.
The three currently available flavors are all made from a blend of hemp seed oil and natural flavoring with no artificial sweeteners. Original Recipe showcases the earthy flavor of hemp, Passionfruit + Mint is a refreshing tropical blend, and Peach + Lemon + Dandelion is a complex blend of earthy, fruity, and tastefully bitter notes, according to the company.
Chiques Creek Hemp Tea does not contain CBD or THC, as the FDA has not yet approved these additives for food and beverage use. As regulations change, Kreider Farms may explore future recipe alterations.
Packaging considerations
"With the passing of the Farm Bill, consumers are looking for hemp products more and more," says Khalee Kreider, Marketing/Social Media Specialist at Kreider Farms. "For the packaging of this product, we wanted something different from what we use for our current Kreider Farms line, but we also had to choose something that would be workable with our current machinery."
The monolayer PET bottle, formed by injection stretch blowing, is 28 grams.
Kreider, who designed the label, says that hemp itself doesn't have strict regulations, however, "It's only when you get into the CBD or THC realm where you run into some hurdles. Since FDA has not set clear regulations/guidelines for food/beverage industry as far as CBD additives, this is a path that a lot of companies are waiting to get clearer guidance on before proceeding."
Kreider Farms sells to retailers/distributors in cases of 12 bottles and each bottle retails at $2.19.