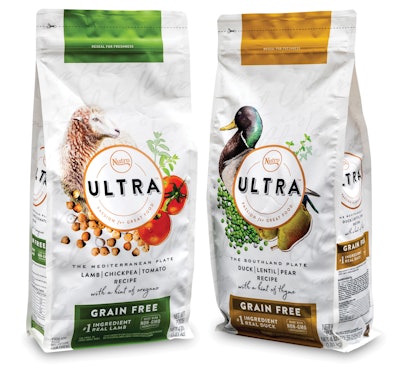 A technically unique project, this graphically stunning, FPA Gold award-winning bag by converter Plastic Packaging Technologies, LLC, was the first commercial item printed by PPT with a registered soft-touch coating on select areas of the bag, says the converter.
The Nutro Company of Nashville has been a provider of natural pet-food products sold exclusively at pet specialty stores for more than 86 years. For its Nutro Ultra Grain Free dry dog food line, Nutro looked to PPT in mid-2017 to provide a pouch with the look and feel of a soft-touch varnish coating. Through 10-color, solvent-based flexo printing, PPT produced a bag with varnish detail that allowed for design highlights.
Neither Nutro or PPT was willing to provide much technical detail on the bag, however it is described by PPT as a "flat-bottom box pouch" with "straight sides that enable excellent casing and freight density, outstanding presence at retail, and ideal home storage."
Adds PPT, "The resealable feature also enables the consumer to keep the product fresher, for longer periods of time without having to switch it to a new container.
"With eye-popping graphics on the package, this product really sets itself apart from the rest of the marketplace."
To read more about the other Gold Winners click on the links below:
https://www.packworld.com/article/sustainability-common-thread-among-fpa-award-winners
https://www.packworld.com/article/shaped-pouch-proves-integral-unique-wearable-breast-pump
https://www.packworld.com/article/new-product-meets-unique-set-requirements
To view photos of the Silver Winners, go to pwgo.to/4022.
Companies in this article