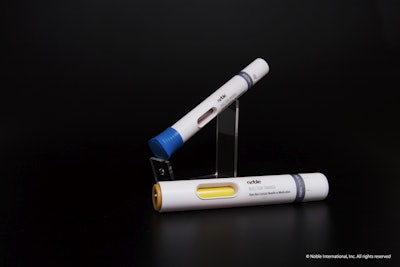 Overall rates of chronic illnesses such as diabetes, multiple schlerosis (MS) and rheumatoid arthritis (RA) are expected to skyrocket in the coming years. Treating these diseases successfully—and managing their associated health care costs—will depend in large part on patient adherence to medication regimens that may require daily, biweekly or monthly injections.
More patients requiring such treatment increases the demand for syringes and the need to train people how to self-inject medications in their homes. To address that issue, Noble, a provider of tailored training for prefilled syringes, autoinjectors, wearable injection devices, inhalers and medication adherence, recently introduced a product demonstration platform devoted to safety and patient compliance.
The new product platform replicates the user experience of the BD UltraSafe Plus™ and BD UltraSafe Passive™ needle guard portfolios and incorporates core device features and capabilities based on BD UltraSafe™ 1-mL and 2.25-mL needle shielding technologies. The device aims to enhance training and includes a proprietary lockout mechanism for repeat use.
BD is a global medical technology company that advances health by improving medical discovery, diagnostics and the delivery of care. The company focuses on patient and healthcare worker safety and the technologies that enable medical research and clinical laboratories. BD is involved in advancing research and genomics, enhancing the diagnosis of infectious disease and cancer, improving medication management, promoting infection prevention, equipping surgical and interventional procedures and supporingt the management of diabetes.
In the following Q&A, Joe Reynolds, Research Manager at Noble, discusses how the two firms address patient onboarding training to self-administration of injectable medications.
HCP: What is unique about the Noble/BD relationship?
Reynolds: Noble and BD have partnered to provide onboarding and demonstration programs that will strengthen commercial launches and improve patient adherence. As such, BD has offered Noble—the only company with exclusive license to develop and produce demonstrators for BD Safety Systems—rights to design, manufacture and distribute demonstration and onboarding devices and supporting materials for BD safety and shielding systems. Through this collaboration, we create onboarding platforms and combination products designed to improve the patient experience and confidence, thus increasing utilization and adherence rates.

HCP: Tell us a little bit about the study results that showed that patients benefitted by practicing with the device prior to beginning treatment.
Reynolds: The first few months of a patient's treatment is the onboarding stage. During this phase, the patient receives their diagnosis, their prescription and drug delivery device, and acclimates to their disposition. In the initial stages of onboarding, the patient is given an in-office demonstration on proper device operation by their health care provider. However, the quality and quantity of training a patient receives vary greatly.
A 2018 survey of health care providers found that 49% of patients prescribed self-injection devices did not receive in-office training, with similar training rates for other drug delivery device modalities (Lang & Nalan, 2018). Additionally, recent studies have found that only 61% of patients read the instructions for use (IFU) and other forms of print collateral commonly used for patient training, education and risk management. Consequently, 84% of patients make errors when using autoinjectors, many of which could be mitigated through proper training and onboarding (Potera, 2015). Depending on when the patient receives the medication and its dosing frequency, the patient may not completely remember the correct sequence on how to operate their drug delivery device. This knowledge gap increases the likelihood of device usage errors.
The goal of the study was to determine if the participants given training material (e.g. an autoinjector trainer, training IFU, etc.) could successfully self-inject into an injection pad. The study was divided into three cohorts (n=27) where they received the following materials on the first day of the study:
Cohort A (n=9): Received the Medication IFU only (control group).
Cohort B (n=9): Received an injection training device, training device IFU and medication IFU
Cohort C (n=9): Received an injection training device, training device IFU and an instructional video on how to properly use the training device.
After a 14-day period, the participants were assessed on their ability to self-inject with an actual autoinjector into an injection pad. It was found that:
Cohort A: 56% of participants made critical mistakes during the self-injection assessment.
Cohort B: 100% of participants successfully completed the self-injection assessment.
Cohort C: 100% of participants successfully completed the self-injection assessment.
Study results (see graphic for more details) show that injection training devices help patients understand the device and internalize the steps required for a successful self-injection.
The goal then is to get as many patients using training devices as possible. To do this, there needs to be an increased awareness of injection training solutions among pharmaceutical manufacturers, health care providers and patients.

HCP: Does Noble work with different pharma manufacturers to demonstrate how their particular therapies/syringes work?
Reynolds: Noble offers tailored training for prefilled syringes, autoinjectors, wearable injection devices, inhalers and medication adherence. Noble primarily works with various device and pharmaceutical manufacturers to market training devices for a specific brand and/or develops platforms. As each medication differs in physicochemical properties, this too influences the drug delivery device that will be used for that particular drug product. As such, Noble adjusts the engineering parameters of the training device to simulate the look, feel and function of its commercial analogue.

HCP: Does Noble work directly with patients? Is patient input used in the development of syringes/autoinjectors used by BD or pharma manufacturers?
Reynolds: Patient input forms the bedrock when it comes to developing training. For example, patients with conditions such as RA or MS may have compromised dexterity, so it is important to design and develop a device the patient can comfortably handle and operate. Although Noble works with device and pharma manufacturers primarily, the products are centered around patient needs. Patient input is gathered from a variety of sources: the client (primarily), but also from user studies, peer-reviewed literature and internal studies such as our recent longitudinal study. It is through these sources that we gain patient insights and develop unique training solutions.
Self-administration: By the numbers
Reynolds notes that the population of patients diagnosed with chronic illnesses such as diabetes, MS and RA are expected to increase in the next two to five years. He cites the following details:
• As of 2014, 422 million people have diabetes and this is expected to rise. Diabetic patients usually administer their insulin via injections (pens, syringes, etc.). With the growing population, this too will increase the demand for self-administration devices and the need for training and successful onboarding.
• Approximately 2.3 million people have MS globally.
• RA affects more than 1.3 million Americans and as much as one percent of the global population. RA is one of more than 150 diseases associated with rheumatic or musculoskeletal conditions that are progressive and associated with pain and difficult mobility.
Overall, the rates of chronic illnesses are expected to increase. Patients within these markets require injections as part of their treatment regimen. As the population within these markets increases, so too will the demand for syringes and the need for injection training because these products are designed for the patients to self-inject, primarily in their homes.