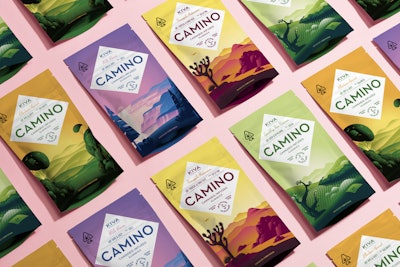 In the Wild West of recreational cannabis, a few companies had a head start. One such company is Kiva Confections. Co-founder Kristi Knoblich Palmer has been making cannabis-infused confections in California since 2010. Given her leg up on current upstarts, she wanted to stand out with sophisticated packaging in an environment that presents a few extra hurdles than would packaging for your average candy. The resulting designs look professional and are clearly labeled, demonstrating maturity and establishing trust with consumers.
"The pouches are a flexible packaging solution during a time when the industry requires flexibility to stay on top of rapidly changing regulations," Knoblich Palmer says. "The pouch format iscost effective, has a relatively smaller footprint, protects the product, and can be madechild resistant, which is currently required in California cannabis regulations as of November 2018. It can be printed in the U.S. or overseas and by many suppliers, which helps ensure we don't have shortages. The standup format also displays nicely at retail."
The unspecified multilayer laminate material is a heavier one which assists with the Child Resistant Packaging (CRP) certification, but it also serves to protect the gummies' flavor and moisture content. The text printed on the label is carefully considered, as there are many requirements for CA cannabis edible product packaging, including THC content, government warnings, a California Cannabis symbol, directions for use, nutritional content, ingredients, allergy warnings, batch information, and more.
"The double-zipper CRP closure is commonly used in the market, so consumers are becoming familiar with how to open these bags," she says."Child resistantpackaging, althoughwell intentioned, creates incredible difficulty for consumers to open; most notably, seniors."
The graphics and branding are what bring Camino to life. Standing out on the shelf, appealing to consumers (of the appropriate age–notice no cartoons or appeals to kids), and imparting a sense of trust in the consumer are key elements of the process when building a package. And now that Kiva can serve recreational consumers in California, Camino strives to have a little more fun with the design than packages it might have designed in the past. Knoblich-Palmer enjoys creating innovative ways for people to consume cannabis, and the package is the perfect platform to tell the story and communicate the message.
"It is our number one priority to deliver delicious, quality cannabis products to our consumers so that they can have an enjoyable experience," she says. "Part of an enjoyable experience is understanding how much THC to consume. We display THC content so that it's clear and easy to read for consumers of all experience levels. Our products are dosed into 5mg THC pieces or less—the state's standard does is 10mg THC. The packaging is the very first opportunity for Kiva to communicate with its consumer, so we ensure they get relevant information up-front so they can have an experience with cannabis edibles that is measured and therefore pleasant."
The doy-style pack supplier was also unspecified, but is purchased as die-cut and pre-formed to be hand filled. The packages are hand-cased, hand, palletized and wrapped. "We also hand pack the pouches into a master case that will ship to the retail customer," she says. "These are not intended for retail display, but they look professional and are clearlylabeled,so that even the inventory handler gets to enjoy some of the branding and experience of Kiva products."