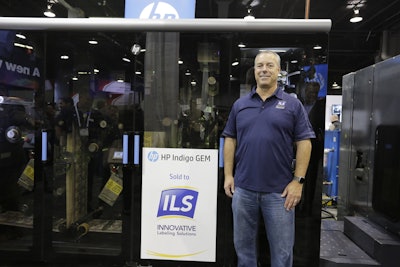 Innovative Labeling Solutions is the first U.S. site for the breakthrough HP Indigo GEM unit enabling a one-pass digital solution for label and embellishment printing on HP Indigo narrow-web technology. ILS and HP made the announcement at Labelexpo Americas 2018.
At ILS, the HP Indigo GEM will operate inline with the HP Indigo 6900 Digital Press, creating the first fully digital, one-pass combination press for embellishing with combinations of foil, screen, tactile, varnish, cast and cure, and other special effects, using a single point of control and one print-ready file.
"The HP Indigo GEM is a dramatic revolution in digital printing industry. With the acquisition of this cutting edge technology, we are once again positioned to disrupt, bringing a fully digital printing solution including embellishments to the marketplace," says Jay Dollries, ILS president and CEO.
The installation of the GEM purchased by ILS at Labelexpo Americas is another first for ILS, making it once again a pioneer in operating HP Indigo's entire line of digital equipment for labels and flexible packaging production. It also operates the narrow-web HP Indigo 8000, two 30-inch-wide HP Indigo 20000 presses for flexible packaging and high-capacity labels, in addition to the HP Indigo 6000 series platform.
The GEM supports HP Indigo's unlimited variable printing options such as HP SmartStream Mosaic.
"This latest cutting-edge innovation allows our business to be dynamic and responsive to deliver a broad range applications and creative capabilities. We are not limited to the embellishment being the same on every label, with the GEM also enabling variable embellishments," Dollries continued.
The HP Indigo 6900 and GEM are powered by the new HP Production Pro for Indigo Labels and Packaging. First unveiled at drupa 2016, the HP Indigo GEM was developed with JetFX, and the commercial version will be sold by HP.
"The beauty of this new solution is the all-digital printing of labels with embellishments, in one process, saving time and costs and thereby creating an all-digital production floor," says Alon Bar-Shany, General Manager, HP Indigo, HP Inc.
The HP Indigo GEM adds digital embellishments to the printing pass, enabling a fully digital, tooling-free, and streamlined production line. It permits an efficient print process for any label type and allows the application of digital foil, tactile silk screen-like effects, spot varnish, mini textures, digital holograms, full flood varnish in gloss and matte, and more.
Companies in this article