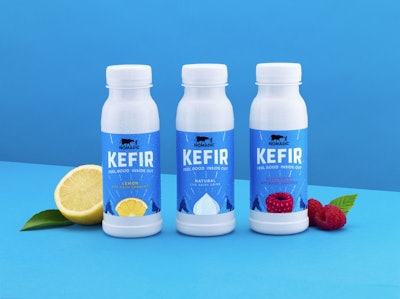 Standing out in an increasingly competitive fermented drinks market is becoming more important. To help strengthen the position of its newly launched range of Kefir-brand drinks, Donegal, Ireland-based Nomadic Dairy worked with multi-disciplinary design studio Carter Wong.
The London-based design firm enlists colorful and authentic illustrations of the Caucasus Mountains—where kefir is said to originate from— helping the lemon, raspberry, and natural varieties gain shelf appeal and brand recognition. The company's online "story" suggests its beginnings trace back to the Middle East, and includes Asian influences, even though the company is based in Donegal, Ireland.
Nomadic's fermented probiotic milk drink contains live cultures that aid digestion and gut health. Carter Wong delivered the wider brand identity for Nomadic in 2014, rebranding from Bio Green Dairy following its acquisition by The Different Dairy Company. The updated identity of Nomadic captures the brand's commitment to traveling the world in discovery of new taste and flavor profiles and shaped its wider look and feel, including a logo of a young boy leading a cow.
This latest brand extension builds on the strength of the Nomadic brand, showcasing the health benefits within each bottle of Kefir. In contrast to Nomadic's Lassi- and Ayran-brand yogurt drink ranges, the Kefir bottles are encircled in a bright blue label that is said to give a nod to the color coding of the dairy sector.
The Caucasus Mountains imagery runs along the base of the label, celebrating the authenticity of the product, with the core flavor ingredients radiating from behind like the sun. Fine silver foil lines also help to create a glow on front of pack, visually reinforcing the product's core benefit of health from the inside out.
A bold logomark was crafted for the word Kefir, with typographic touches meant to lend an authentic Eastern European feel.
Carter Wong Managing Director Sarah Turner, notes, "The popularity of fermented drinks, including Kefir and Kombucha, has risen dramatically in recent years as more consumers discover the health benefits of these fermented functional products. As a result, new products are coming to market all the time and each new brand is having to work even harder to capture consumers' attention."
A recent Mordor Intelligence report predicts the global fermented foods and drinks market "is poised to register a CAGR of 7.2% between 2018 and 2023. Says the report, "The market is competitive and driven by the increasing health and wellness market trend and the growing beverages market demand."