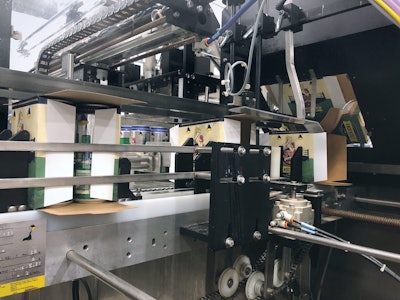 Among the breweries that will be included in the group tours conducted each year during the Craft Brewers Conference convened by the Brewers Association is Nashville's Fat Bottom Brewery. With a brand new 33,000 sq ft facility to show off, it's easy to see why Fat Bottom was selected for this honor.
Central to the new plant is a new canning line for 12- and 16-oz cans. Comac supplied the overhead depalletizer, twist rinser, and Monoblock 8-1 filler (an eight-station rotary filler blocked with a single-station seamer). A Markem Imaje ink-jet coder puts date codes on can bottoms, and then cans are fed into a multi-lane conveyor that leads to a Spartan cartoner from Econocorp.
"As we thought about the new line we definitely wanted to be faster than the 25 cans/min that we were at before," says Brewmaster Drew Yeager. "We're now comfortably capable of 60/min on 16-oz and 75/min on 12-oz. The cartoner is fully capable of running at twice the speed we're now at, which was one of the reasons we liked it so much. If growth continues and we need to add capacity, we can add a second monoblock filler/seamer and not worry about taxing the cartoner."
Sterling Packaging Inc. provides the paperboard cartons fed into the Spartan cartoner. Routinely produced on the Econocorp system are 16-oz cans in either four- or 24-count formats and 12-oz cans in either six- or 24-count formats. "Regardless of which format," says Yeager, "the cartoner picks blanks from the magazine, glues and tucks the flaps so they don't get in the way, collates the cans into the right pattern, loads the cans with a pusher mechanism, glues the flaps closed, and discharges the finished cartons. It's designed so that changeover from one format to another is easy, though I must admit doing it the first few times was a little intimidating. Now we have it down to about 30 min, and that includes operational tests."
There's a certain element of closing the loop in having Fat Bottom included on the Craft Brewers Conference tour April 30, because it was at CBC Portland in 2015 that Yeager and colleagues started seriously kicking the tires in terms of what gear they wanted to include in their new canning line. "We focused first on the cartoning system and sized most everything else accordingly," says Yeager. "Because if the end of an automated line is not capable of keeping pace with what's upstream, you have a serious problem. We looked at a number of cartoning options, and from the perspective of speed, price point, reliability, and willingness to communicate and support, Econocorp just stood out."
Mobile canning
Now entering its sixth year in business, Chicago-based Begyle Brewing has been sending kegs to bars and restaurants almost from the beginning. Other packages the firm has used include 22-oz glass bombers and 12-oz glass bottles. But for the last year or so it's 12- and 16-oz cans that have occupied much of the brewery's attention.
Four "core beers," as Begyle co-founder Kevin Cary calls them, are filled by copacker Great Central Brewing Co. But for special or seasonal beers, Begyle relies on Michigan Mobile Canning.
"They bring the cans, the equipment, and two people to run the equipment," says Cary. "We just don't have the space to keep a canning line here as a fixture. We've been bringing Michigan Mobile in about once a month for the past year or so, but now we're looking to have them in twice a month. They run a batch, roll the equipment back into their trailer, and exit the premises. All we have to do is warehouse the cans and see to distribution."
The line we viewed at Begyle (see video above) consisted of a depalletizer/single filler, an ink-jet coder for can bottoms, a twist rinser, a four-nozzle CO2 rinse station, a four-nozzle filler, a lid dropper, and a one-head seamer. A pressure-sensitive labeller owned by Begyle takes care of can decoration. Ring carriers are snapped on by hand and the four-packs are placed in corrugated trays that are palletized manually.
Production runs executed by Michigan Mobile, says Cary, range from 200 to 400 cases. Usually, he adds, it's 16-oz cans. But later this year a sizeable run of 12-oz cans will be produced when Begyle brews a custom beer to celebrate the one-year anniversary of a Whole Foods store a few miles south of Begyle's rehabbed 1930s-era factory near the Irving Park El stop on the CTA Brown Line.
Nex-gen ring carrier
Based in Boynton Beach, FL, and celebrating its sixth year in business in May of this year, Due South Brewing Co. recently switched to a new ring carrier for its six- and four-count cans of 12- and 16-oz beers. Rather than apply carriers manually as in the past, the firm installed a WaveGrip G1 carrier applicator. Especially suitable for applications where speeds are under 100 cans/min, the semi-automatic G1 is tailor-made for craft brewers. Making it all the more attractive to craft brewers--where floor space is at a premium and capital expenditure budgets are less than gaudy--is that it has a footprint measuring just 55 x 31.5 in. and it only costs about $18,000.
In view of all this, it's little wonder that WaveGrip, part of the UK-based RPC Group, will be showcasing the G1 at the booth of Palmer Canning Systems at this year's Craft Brewers Conference in Nashville, TN. Palmer is an authorized WaveGrip OEM that is producing the G1 and G2 WaveGrip applicators for the U.S. marketplace.
As with all WaveGrip applications, Due South feeds carrier material onto its cans by way of a large reel holding enough carriers for 3,000 six-packs. Cans exit a Cask five-head inline filler/seamer and are single-filed into a pneumatically powered device that, every time it strokes forward, pushes two cans at a right angle into the infeed conveyor of the WaveGrip applicator. As the force of each stroke pushes the two lead cans on this conveyor into the applicator wheel, the tops of the two lead cans are inserted into the WaveGrip carrier material. Exiting the applicator, an electronic blade cuts the packs into either four- or six-packs depending on the operator's choice of settings.
According to Due South Brand Marketing Manager Doug Fairall, the switch to WaveGrip brought at least three benefits. First, applying ring carriers by machine requires fewer operators than the hand-applied approach used in the past. Second, the WaveGrip carrier costs considerably less than other options, including the hand-applied option the brewery used previously. And third, he says that consumers find it easy to remove a can from the WaveGrip carrier.
Which brings us to the makeup of the carrier itself. WaveGrip is part of British Polythene Industries PLC, which became part of RPC Group in 2016. The WaveGrip material is made at a BPI plant in the UK. Step one is a blown-film coextrusion of various grades of low-density polyethylene. Up to seven layers can be involved. According to WaveGrip's Aaron McIvor, greater strength is imparted to the finished product by coextruding various grades of LDPE rather than producing a monolayer LDPE blown extrusion. Rollstock is then fed into a second operation that cuts out the holes for the cans, slits the rollstock into strips, and then winds the strips onto reels suitable for mounting on application equipment.
Due South purchases its WaveGrip material from Palmer Canning Systems. McIvor says that the hand-applied six-pack carrier formerly used by Due South weighs 21 g. The WaveGrip carrier now used weighs 3.45 g. He also indicates that the WaveGrip application machinery relies on the geometry of the can to apply the carrier over the top of the cans. Competing application systems that are used to apply comparable ring carriers, on the other hand, rely on mechanical fingers to stretch the material over the can tops, an approach requiring equipment that is considerably more complex and expensive than the WaveGrip applicators.
While Due South's use of the G1 carrier applicator involves a pneumatic pusher, it's possible to have an operator push cans into the applicator. This video (pwgo.to/3412) shows such an application.
Passing HB2386
The founders of Noon Whistle Brewing in the Chicago suburb of Lombard came away from the 2016 Craft Brewers Conference convinced that the 360 End® from Crown was right up their alley. The entire lid of the beverage can is removable, turning the metal can itself into a drinking vessel, eliminating the need for separate glassware or plastic cups that add unwanted waste. Ideally suited for the beer industry, the design of the 360 End® enables the full flavor and aroma of the beer to hit the drinker's senses upon removal, enhancing the overall experience with the product.
Little did the brewery founders—Paul Kreiner, Jim Cagle, and Mike Condon—realize as they looked into introducing the 360 End that the state of Illinois had an environmental litter law in place dating back to 1988 that prohibited the production and sale of fully removable beverage container lids for beer, malt beverages, liquor, and other products. When they discovered this was so, they enlisted support from a local state representative, the president of the Illinois Brewers Guild, and other politicians. The final step in lobbying for the change was to have the law removed from the Environmental Protection Agency's oversight and put into the oversight of the Tourism Hospitality Craft Industries group of Illinois. After about a year and a half, several meetings, and unwavering effort, bill HB2386 was passed.
"As craft brewers, we had to dust off our suits, plead our case to many different people, and lobby for a change with the help of various governing bodies," says Condon. "We were fortunate to have support from our State Representative Peter Breen, Senator Chris Nybo, and the brewer's guild. That aspect combined with our determination to have the 360End applied to our package resulted positively for both us and our new and loyal customers." Moving forward, Noon Whistle plans to package all of its beers with the innovative can end.
"The tribulations we faced were well worth it," says Condon. "Our customers repeatedly commend the package, citing that it is easy to open, easy to pour into a glass, and even great to drink straight from the can, enhancing the overall drinking experience. Our distributors are also excited about its uniqueness in terms of marketability."
From 28 to 80 cans/min
"Wild Goose fit our needs perfectly, so we went with them."
That's how Ed McKernin, CEO of 18th St. Brewery, describes how the Hammond, IN, craft brewer wound up installing a WGC-600 intermittent-motion canning system from Wild Goose Canning. The brewery's previous three-head filler was simply incapable of keeping pace with growing demand, so the dual-lane, eight-nozzle WGC-600 was installed in August of 2017, along with a double-seamer and double lid-dropper. In short order, the brewery's canning speed went from 28/min to 80.
Upstream and downstream equipment was also put in place, including:
• A depalletizer and twist-rinse cage from Ska Fabricating. (See sidebar below for a look at how another craft brewer upgraded its depalletizing operations in a slightly less automated manner.)
• An ink-jet can coder from Videojet
• A pressure-sensitive labeller from Pack Leader USA
• A four-pack carrier applicator from PakTech
Though the new line, which currently operates two or three days a week, is capable of 12- or 16-oz cans, 18th St. is in the process of eliminating 12-oz cans from its repertoire. Everything produced on the new canning line is done in four-count 16-oz cans. To see a video of the line, go to pwgo.to/3421.
Bright stock 16-oz cans arrive on pallets. An operator puts a pallet into the Ska Fabricating depalletizer and cuts the strapping used to hold the cans in place. Layers are raked off from the top and single-filed through the rinse cage. Then the cans are uprighted, divided into two lanes, and indexed forward until they're beneath the eight fill nozzles. Seaming follows immediately, and when cans emerge from the seaming station they're back in a single-file formation. Next is a drying station, and then date coding on the bottom. Here the cans make a right-angle turn into the pressure-sensitive labeler. To say the labels, supplied by Blue Label Digital, are impactful would be a serious understatement. Supplied to Blue Label by Avery Dennison, the label material is a Fasson 2-mil metallized BOPP on a 1.2-mil polyester release liner; the adhesive is a Fasson S7400 clear, permanent acrylic that is especially suitable for beer containers and the moist environment in which they frequently find themselves. Blue Label prints the labels on an HP 8000 using 4 color (CMYK) + white ink. Go to http://joeypotts.com to see the full range of 18th St.'s labels, all of which is original art work by Joey Potts, one of the two founders of 18th St. Brewery.
A short distance from the labeler is the PakTech carrier applicator. "We used to apply the carriers by hand," notes McKernin. "But at 80 cans/min we would never have been able to manage it." Like the machine that applies them, the injection-molded carriers are supplied by PakTech.
Now in its fourth year, last year 18th St. produced about 4,000 barrels, the bulk of it packaged goods sold in Indiana, Illinois, and Wisconsin. "We expect to do more this year," says McKernin.
Better can depalletizing
Chatham Brewery of Chatham, NY, operates a two-head intermittent motion linear filler and can seamer. "Mostly we fill 16-oz cans, which have become very popular," says Tom Crowell, co-founder and owner. "We don't run much faster than about 16 cans/min, but that's perfectly suitable for a brewery that produces about 2,500 barrels of beer annually."
Chatham recently upgraded its can depalletizing operation by installing a shaker table and twist-cage rinser from Cask. The shaker table adds a welcome measure of efficiency, says Crowell, compared to the hand-feeding approach that used to be in place.
"We still rely on an operator to introduce cans into the filler, but now it can be done a layer at a time as opposed to one at a time," says Crowell. "We slide one whole layer of cans off the pallet onto the shaker table and then a small hydraulic ram tilts the table up. Combined with the shaking motion, this feeds the cans down into a single-filer, then into the twist rinser, and subsequently into the filler."
The Independent Craft Brewer Seal
The independent craft brewer seal was launched on June 27, 2017. In this short period, we already have thousands of beer brands displaying the seal in some form either on bottles, cans, keg collars, six-pack carrier, case boxes, and more. To date more than 3,050 (and climbing daily) craft brewing companies, representing more than 75% of the volume of craft beer, have signed on to use the seal out of an estimated 5,546 total U.S. craft brewers representing 6,077 individual brewing locations.
For many people, beer is more than just what's in the glass—it is also about the people who brew it and who owns the brewery behind the brands. Millennials in particular expect transparency when it comes to ownership behind their beer brands and want to know when they are drinking a beer from an independent brewer or a large conglomerate brewery. Unfortunately craftwashing is going on and Big Beer is not labeling their acquired independent beer brands nor are they putting their name on many of their beer brands such as Blue Moon and Shock Top and others. Thus the independent craft brewer seal will help provide clarity for beer lovers.
A research finding during the design of the seal showed that almost all beer lovers surveyed have some interest in a "certification badge" or seal to identify independently owned craft breweries, and they believe such a seal would support small businesses. As well, in data from the June 2017 Craft Insights Panel conducted by Nielsen, 55% of craft drinkers said it was very/somewhat important to their purchase decision if a beer was made by an independent brewer. That number rises to 69% among weekly craft drinkers, with one-third of that group selecting "very important."—Bart Watson, Economist, Brewers Association
Companies in this article