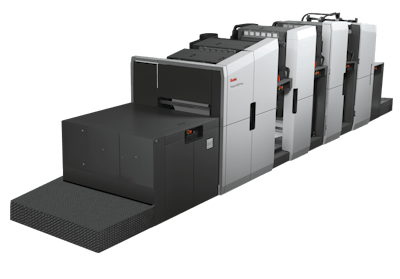 Taking an unusual approach to digital container decoration front was Inkcups Now, which featured at its CBC booth the HelixR rotary inkjet digital printer. Because it's a digital process, prepress and screen making are eliminated. Just import the image, choose the quantity for production, and print directly to the can, bottle, or cup with user-friendly software. It handles straight-walled or tapered cylinders, and speeds are in the range of four parts/min.
Meanwhile, the folks at the Zumbiel Digital booth were showing a variety of basket carrier and carton prototypes that Zumbiel will soon be able to supply to craft brewers and others. Zumbiel is the first in North America to commercialize an exciting new digital print technology from Eastman Kodak called Prosper 6000S. Since 2010 a version of these print stations has been used primarily for commercial printer applications. But now Kodak has its sights fixed on applying Prosper to packaging.
Prosper is a roll-to-sheet Continuous Ink Jet technology on steroids. It's key attributes:
Generates more than 450,000 drops per nozzle per second; Drop On Demand, by comparison, is in the range of 20,000 to 30,000.
Generates drops that are optimally round, which results in optimal print quality
Generates drops at around 20 meters per second, where other technologies are in the range of four to six meters per second
Accepts roll-fed paperboard in widths to 25.6 in.
Throughput is four to six times that of the only comparable press, the HP 30000 sheet fed digital press.
The result? Digital CIJ print capability that rivals offset in quality and that can be done at high speeds. That's why Kodak's go-to-market battle cry, so to speak, is "production digital."
At Zumbiel the Prosper print heads are being incorporated into a relatively conventional six-station flexo press. As Kodak's Don Allred puts it, "We basically ripped apart a flexo press and put it back together again with our Prosper print stations included. It will give Zumbiel a unique ability to print a combination of digital and flexo, or just digital, or just flexo."
This kind of hybrid press is especially suitable for the craft brew crowd because they are all about small-volume runs. Zumbiel will be able to take a wide variety of different orders and put them through in one press run. Instead of changing printing plates when going from one job to another, it's just a matter of new data feeding automatically into the press's controller. When 500 basket carriers for flavor A are printed, the very next basket carrier can be flavor B without the press even having to pause.