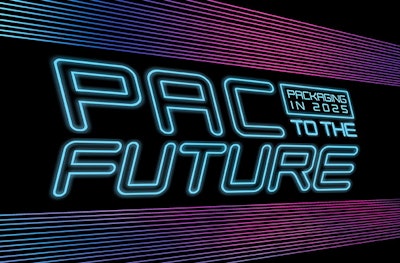 When it comes to business innovation, "the emerging present does not require change; it requires transformation." That was the message delivered by Alexander Manu, a strategic innovation practitioner, international lecturer, and author, in his keynote presentation at PAC, Packaging Consortium's fall 2016 conference held in Niagara Falls, Canada.*
Manu began his presentation by telling attendees that his job at the conference was to open their brains, "in a painful, painful way." Painful, perhaps, but thought provoking for those willing to be "agile in the brain" and to surrender their ways of behaving, as he advised.
As Manu explained, the Internet has created a "behavior economy." In this new economy, "we are not creating products for people to use, we are creating products for people to behave on," he said. "To be relevant in this context is to enable a new experience. What is the future of user experience? Epic, nothing else will do."
But what does it mean to "enable a new experience" through packaging? What experiences are consumers demanding? And, what emerging technologies will support this experiential packaging of the future?
The connected consumer
To understand how to create a meaningful experience for consumers through packaging, brands must understand the emerging consumer. According to Dave Rodgerson, a Retail Industry Leader at Microsoft, "The consumer of the future is today's Digital Native"—a native speaker of the digital language of computers, videos, video games, and social media.
In his presentation, "Customer Expectations in 2025," Rodgerson said, "In retail, we would always talk about the four 'P's [product, price, place, and promotion]. But now it's become the five 'I's: instrumental, interconnected, informed, in place, and immediate. It's what we can use to connect with these consumers.
"The fact that they are instrumental. Everyone walks around with a computer in their back pocket—it's your phone. They are interconnected. Now part of that is being connected with technology, but it's also being connected through a community. They are informed. The people who buy today, the consumers of today and tomorrow, they know more about what they're buying than anyone has ever been able to know before because of the research they do. By in place, I mean they are looking for contextual information. They are actually shopping with the phone in the store while they are there. They want offers made to them in the place they are at, in context. And, it's immediate; everything is immediate. You think about how instant gratification has become such an element of the way people do things today: I want to buy it now, I want to get that offer now."
Rodgerson then rolled out a list of attributes for the emerging consumer:
· They are comfortable with mixed reality
· They are lifestyle conscious, concerned about nutrition and food traceability, and have fluid relationships and families
· They have a different—and lesser—expectation of privacy; they expect the brand owner to "Know Me"
· They expect brands to demonstrate social responsibility
· They want to be part of a community, to feel closer to the brand
· They want to be "first among equals," first in line for special offers, asked for their opinion on new products, and will even pay more for an exclusive experience
· They want to be special, they want to be recognized
· They are builders and collaborators
· They want to be entertained
"In the future, you need to curate the conversation," Rodgerson said. "You need to show that you know the consumer. The trick is to be able to do the analytics to help you take the information and make decisions on it. Having the insight is the leap from having the data to doing something about it."
Packaging as a connector
In their presentations "Packaging: The Great Connector," "Packaging Solutions for the Next Generation," and "The Age of Hyper Customization," Mike Ferrari, founder of Ferrari Innovation Solutions, llc, David Luttenberger, Global Packaging Director, Mintel Group Ltd., and Rob Wallace, Managing Partner, Best of Breed Branding Consortium, respectively, discussed the power of packaging as a connector.
In Ferrari's session, he shared the example of Brazilian beer brand Brahma, which, at every 2014 World Cup game, had an in mold-labeled cup printed with information on that day's game. The result: The cups are now collectibles being sold online for up to $30 for the winning game cup.
In another example, Ferrari told of how Nestlé created and sold personalized Nutella packages at a pop-up store. "People were queuing up for two hours to purchase the product," he said. "The product didn't change; the label did."
For Pepperidge Farm, its Goldfish snack cracker brand's 50th birthday in 2013 inspired an e-commerce site where consumers could personalize bags of the product with their own photos and custom messages, and could select their favorite Goldfish cracker colors to create special combinations. "It transformed the product from a snack food into an experience and entertainment," said Ferrari.
"The connected world is driving customization," he said. "Even in emerging markets, even the poorest of the poor now have cell phones. There are 6.6 billion cell phones worldwide. People want to be connected."
The tool for making that connection, he explained, is the automated digital workflow, with digital printing for folding cartons and flexible packaging now possible. "This is your future," he told attendees. "I'm not saying you need to get rid of your analog assets, but analog will probably be less prominent than digital as we go forward."
Ferrari's advice for brand owners, suppliers, and printers:
1. Reinvent your business, focus on harmonizing packaging across all the channels
2. Reduce complexity
3. Create a master plan and an all-digital workflow
According to Luttenberger, to connect with the consumer, brand owners need to develop packaging that offers a solution, not disruption. "Every brand owner has said they have to create disruption," he said. "Sometimes when consumers see a difference on shelf, they don't know why. It creates a disruption because they don't know what the benefit is to them. Your product has become a candidate for de-selection.
"Solutions-based, or functional, hard-working packaging wows at the point-of-sale and makes an emotional, practical, rational, or even irrational connection because it addresses a need state and makes a consumer's life…you fill in the blank."
One example he shared is a new can design introduced by Orangina for its citrus-based carbonated drink with pulp. Because consumers must shake up the beverage before drinking and because they are hard-wired not to shake a can of carbonated drink, the company introduced the Upside Down Can. The can features the opening on the bottom of the package, which requires the consumer to turn the can upside down to open—automatically mixing the pulp with the beverage.
"When price is not the issue, functional, experience-driven packaging will be the deciding factor," Luttenberger advised.
Like Ferrari, Luttenberger also explored the issue of digital printing, noting that it has already been "pigeonholed" for personalization applications. He advised that the technology should also be considered for more mainstream packaging. To illustrate, he gave the example of cannabis edibles company Dixie Elixirs, which uses digital printing for its labels to allow for flexibility to change label copy as marijuana industry regulations change.
In his presentation on hyper-customization, Wallace told attendees "we are in Retailing 4.0." In 1.0, consumers sought products at farmers' markets. In 2.0, consumers sought a relationship with the grocer, who gathered the products. In 3.0, mass customization bred brands, with consumers wanting to understand what differentiated them from one another. Now, in 4.0, consumers want brands to provide experiences and speak directly to them—"I want my brands."
"We are beyond the brand speaking to all consumers," he said. "We now need to speak with each individual authentically. While the decreased cost of digital printing is making that possible, the merging of that technology with a design algorithm is still a bit cost-prohibitive.
"The brand stands for one thing; it can't be all things to all people. So how do we use hyper-customization as the brand's essence?"
To answer this question, Wallace shared the story of Spelling Bee beer, a design concept from Wallace Church Inc., the branding and design agency Wallace formerly served as Managing Partner. The challenge was to design a craft beer brand that could stand apart from the 2,400 craft beers available, all of which were telling the same story. Their solution was a package concept that allows consumers to engage with the brand at an individual level, without the brand owner having to use an expensive design algorithm to create.
Instead, the beer cans are printed with the letters of the alphabet, with a different letter on the front and back of each can, inviting consumers to spell out words with the packaging. As Wallace explained, the can could then be followed up with secondary packs, for the draft experience, and with coasters. "It literally changes the experience," he said.
Technology that connects
When it comes to literally connecting with the consumer, smart packaging technology, including IoT (Internet of Things)-enabled solutions, is accelerating rapidly. That's according to Jeffrey Moore, General Sales Manager for Atlantic Packaging, who kicked off a session titled, "Smart, Smarter and Smartest Packaging." Moore is a co-chair of intelliPACK, a joint program between the Canadian Printable Electronics Assn. (CPEIA) and PAC that was organized to speed the adoption of smart packaging solutions.
Explained Moore, "intelliPACK was formed to help create a bridge between innovators and the marketplace. This bridge will span the innovation gap, which is a phenomenon where scientific delivery excels, but the ideas and concepts that are generated in the lab never make it to the real world and into the hands of consumers."
Smart packaging, as defined by intelliPACK, includes active and intelligent packaging. Active packaging is packaging that provides one additional function, in addition to its primary purpose of containment and protection—for example, moisture absorption or oxygen control through desiccants. "These products are relatively mature and are found throughout the world," said Moore.
Intelligent packaging is packaging that senses a change in the environment and communicates or signals this information to an interested party—a two-step process. Functions of intelligent packaging include counterfeit protection, supply chain management control, food safety, and marketing applications. Examples include ripeness indicators, time or temperature indicators, or NFC labels.
Another subset of smart packaging, Moore added, is IoT packaging, which is "still very much in its infancy, but will see a significant growth in the coming years." In fact, he said, IoT packaging is forecast to grow at 18% per year to $2.2 billion by 2021.
One smart packaging example cited by Moore is a prototype bottle from Diageo developed with Thin Film Electronics ASA (Thinfilm) for Diageo's Johnnie Walker Blue Label Blended Scotch Whisky. The bottle, unveiled in spring 2015, incorporates Thinfilm's NFC Open Sense™ technology to detect whether a bottle seal is intact, provide real-time, targeted, personalized digital content to consumers at retail as well as after purchase, and allow for supply chain analytics. Open Sense technology uses a printed sensor tag on the bottle that is read by the consumer (or supply chain operator) using a smartphone. The data is then sent to an IoT smart cloud platform.
According to Sam Salem, Senior Director of Strategic Capabilities for Jabil Packaging Solutions, who also spoke as part of the smart packaging presentation, the use of sensors read by wireless devices, with data fed to a cloud-based database is the core of the connected world of the future. "It's a conversation between people, the brand, and products in this connected world," he said.
"I can now basically walk up with my cell phone to a perfume bottle, and it will communicate with me. I can have a connected coffee-maker ecosystem that is smart packaging-enabled, where I can use an app to download a coffee recipe, and it will communicate to the K-cup carousel to indicate what coffee is available. The app and the carousel can then connect with the brewer to determine the brewer health and status, etc., all the way to automatically reordering the coffee—all through the cloud.
"Again, it's an evolution from the use of conventional packaging, for example, a simple Coke bottle, to now working in an intelligent world—communicating to the consumer through the bottle."
Salem closed with some figures: "We believe that the global market size for smart packaging is going to be about $45 billion by 2022, and that there are going to be about $14.5 billion packages shipped with some sort of smart electronics, probably by 2024."
"Across all industries, change is accelerating at an unprecedented rate. The cloud, IoT, and big data analytics are fueling the digital economy, lowering barriers for new entrants, and, at the same time, raising consumer expectations significantly. The pressure is on. Fear of failure is no longer the issue. Fear of irrelevance is now the issue."
*Editor's Note: Other topics discussed at the conference included the circular economy, zero waste, and mergers and acquisitions, which are not covered in this article.
7 strategies for crossing channels
Customizing the user experience also means tailoring your packaging to fit a variety of retail channels. According to Jeff Davis, Vice President, Account Director at branding and design agency Davis, of the top 20 U.S. retailers in grocery sales, seven of them are not grocery stores. They are club, drug, dollar, convenience, or mass merchandise stores.
"Consumers use all of these channels for their shopping needs," said Davis, in his presentation, "Crossing Channels," adding that consumers pick those channels that best suit their needs for convenience, selection, fresh, health, and value. "It is critical that brands leverage channel-specific insights to meet consumers' expectations and preferences.
"Eighty percent of us have tunnel vision. Today we spend all of our time, money, and energy too focused on grocery and mass, while treating the alternate channels as an afterthought—no time, no budget, no strategic thought. We need to start working differently."
Following are seven strategies Davis shared that can be used by brands to cross channels:
1. Mass distribution—same product to every channel, just change pricing strategy and POS communications
2. Format customization—change pack size/format to meet different consumer need states
3. Product innovation—create new products to better fit consumers' needs
4. Targeted communication—pick messaging to reflect consumers' preferences for quantity, quality, usage occasion, etc.
5. Sub-branding—use sub-brands to appeal to different consumers, meet retailer demands for exclusivity, or hit price points while protecting your base brand
6. Branding—change the brand name to fit the channel
7. Combo product—combine different flavors and brands together to bring value to consumers