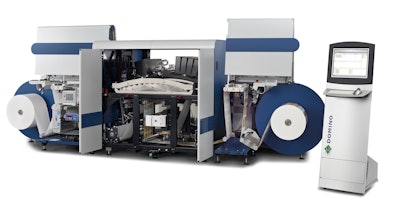 Factor Forms and Labels is Canada's largest business forms and labels "Trade Only" manufacturer, having plants in Edmonton, Niagara Falls, and Victoria. The Domino N610i is Factor Forms and Labels sixth digital press purchased since 2008, and the company is excited by how this new press will help drive and achieve their business objectives.
"Our focus for labels has been the 'Short Run' marketplace, and our exclusive use of digital label presses and laser die cutters allows our dealers to be very successful going after this business. However, we are now seeing requests for larger quantities, and the Domino N610i will allow our dealers to pursue mid-range quantity orders, especially those with multiple SKUs. We also see texturing being a great 'value add' to what our dealers offer their customers," says Tom Moore, Vice President and General Manager of Factor Forms and Labels.
The 'texturing' that Moore refers to is the recent introduction of "Textures by Domino," a new unique inkjet capability of the Domino N610i that allows label printers to produce visually striking, digitally printed tactile, textured labels that enhance shelf presence and make brand owners' products stand out from the crowd. It provides a cost-effective way to create amazing "feel appeal" without the use of expensive textured label materials.
The Domino N610i digital UV inkjet label press runs at a minimum 165 fpm, and up to 246 fpm. Print resolution is 600 x 600 native dpi and the white that has an opacity over 70%. The press is known for high digital productivity, reliable digital UV inkjet quality, and the most consistent print results. It's also easy to operate.
Companies in this article