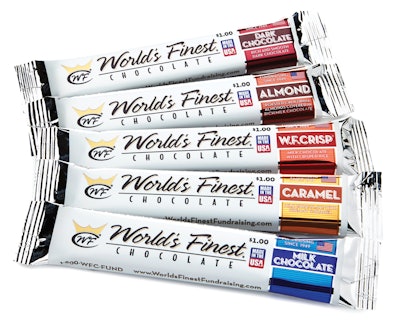 Who in North America has not encountered World's Finest® Chocolate, the confectionery company whose chocolate bars have been used for fund raising efforts by schools and other organizations since 1949?
Iconic though the brand and company may be, the Chicago-based manufacturer is certainly not resting on its laurels from a packaging automation and efficiency standpoint. About 12 months ago the firm installed a highly automated solution that does away with hand loading and older-technology machine loading of WIP (Work in Process) corrugated totes and replaces it with robotic loading of custom-made and reusable injection-molded WIP totes. Also new is the automatic removal of primary packs from the plastic totes and placement into variety packs.
Like the upstream tote-loading robotics, the placement of individual packs into corrugated variety packs is done on a system from Cama USA. Then late this summer the bar-wrapping method that has been used for decades—foil wrapping plus application of a printed paper band—was replaced by flow wrapping on equipment from Delta Systems . WFC Senior Director of Engineering Rich Jacob says that with these upgrades in place, both material and labor costs have been substantially reduced. And, as we'll see shortly, throughput has risen significantly.
Since the installation of the robotic systems preceded the switch to flow wrapping, let's begin with a look at robotics. First it's important to understand how fundamental WIP is in this particular manufacturing setting. WFC's product rarely reaches consumers by way of the retail channel. Instead, WFC's customers are schools, churches, clubs, and other organizations that order chocolate in a wide variety of formats and then sell it as part of their fundraising activities. One customer might want 60-count cases of $1 bars of dark chocolate, another might want dark and milk chocolate mixed, while a third might ask for a 30-count variety pack containing a mix of $2 or $3 bars, and folding cartons containing twist-wrapped Caramel Whirls® or chocolate-covered Continental® Almonds. And these orders might be for 100 cases, 1,000 cases, or 10,000 cases.
To meet all of these requests, WFC used to use a crew of people and older-technology case packers to put primary packs into corrugated WIP boxes. The boxes were then stationed at a manual case packing operation where another crew manually picked primary packs from the boxes and built cases according to what customers wanted. This is now replaced by sophisticated, versatile, and automated robotic systems from Cama USA. Six Cama IT 285 systems load primary packages into reusable plastic WIP totes that are taken to a Cama IG 270 system that stretches a total of 45 feet. In the IG 270 are 13 delta-style robots. The first 10 robots pick primary packages out of the totes and place them into a dual-lane flighted conveyor running down the center of the IG 270. At the end of the IG 270 are three delta-style robots that pick primary packages out of the dual-lane flighted conveyor and place them into corrugated cases. The cases get automatically erected just ahead of the IG 270 and automatically glued closed at the end of the IG 270. Both case erection and closing are performed on machines also supplied by Cama.
From the molding room
One thing that didn't change much is the way the bars exit the molding operation that is in a room adjacent to the packaging systems. On the day of our visit, rows of $1 bars and rows of $2 bars were in production and exited the molding operation mixed intermittently on a main conveyor. Above this main conveyor is mounted a metal detection system from Loma.
Also mounted above this main conveyor is a vision system from Cognex that identifies which rows are $1 and which are $2 bars. Thanks to a control system WFC developed in house, all rows of $1 bars are diverted at a right angle down a row-removal belt to designated $1 flow wrappers, while rows of $2 bars go to a designated $2 flow wrapper. On the opposite side of the main conveyor are additional flow wrappers, each of which also feeds bars into a Cama IT 285 tote-loading robot. Two flow wrappers are not new Delta Systems machines but rather equipment the firm already had in storage from a project some years back.
The row-removal belts are governed by whichever flow wrapper they feed. Each flow wrapper's PC-based controller signals a sweep mechanism in the row-removal belt when the wrapper is ready to receive a row of bars. When that signal is received, a row of chocolate bars is swept from a dead plate on the main conveyor and into the row-removal belt. A bump and turn arrangement or set of turning belts reorients the bars from wide-edge leading to narrow edge leading and then the bars move into the flow wrapper. An array of SICK sensors helps ensure the proper spacing so that when individual bars reach the vacuum spacing belt just ahead of the wrapper they are efficiently separated prior to entering the lug chain feed that takes them through the flow wrapper.
Supplied by American Packaging Corp., the flexible film packaging used by WFC is a two-layer adhesive lamination of clear OPP and metallized OPP with a cold-seal coating. The clear OPP is reverse-printed on a flexo press in eight or nine colors. Graphics closely mimic the look that the old labels had.
Cutting packaging material costs radically was just one of the objectives accomplished by switching to flow wrapping. The new packaging brings a more contemporary look to the bars while still keeping the fundamental design intact. And because it does a better job of keeping air from reaching the chocolate, WFC increases product freshness.
Ink-jet coding
Also now on the individual unit packs is date and lot code number identification, which is ink-jet printed by a Leibinger JET3up system. "When we trialed Leibinger we had very good results," says Jacob. "Between the reliability of the machine itself and the level of local support we get through the distributor we bought it through, we've been very happy." Chicago Coding Systems, says Jacob, is the distributor.
As for why the Delta Systems Eagle flow wrappers were selected for this project, Jacob says Delta was ready to meet the tight timeline that had been established once WFC decided to switch to flow wrapping. It didn't hurt, of course, that the machines run steadily at 400/min, while the wrappers they replaced topped out at about 260/min. "Delta is also good at integrating other equipment, like the Leibinger ink-jet printer, into their solutions," notes Jacob. "And finally, we liked that they were made locally and their support and service have been terrific." He adds that the plan is still to optimize labor further for flow wrapper operation.
Delta Systems also handled the controls upgrade that tightly integrates each flow wrapper with the row-removal belt it's fed by. The wrappers themselves are PC-controlled machines using Delta Systems own SoftFlow software. "It's an open-source controller that we developed in house," says Liam Buckley, Sales Director at Delta Systems. "We control the HMI, the motion, and the logic all through the PC. Because it's a fully open system, they can go in and rewrite in ladder logic on the screen and make changes. It's password protected, of course, but the programming can be changed right at the machine without any need for licensing fees or separate PCs. It's a completely open accessible platform to be used by the customer and/or our technicians on site."
Tote-loading robot
To take a closer look at one of the six Cama IT 285 robotic tote-loading systems, let's pick one that is loading $1 bars. Bars exiting the flow wrapper are fed by an infeed belt at 400 bars/min. Each bar is fed into a flighted carrier on a race track conveyor running off at a right angle. As soon as 24 bars are all in their flights, that carrier is indexed into a pick station and a second carrier on the race track conveyor begins collecting the next batch of 24 bars. Meanwhile, a robotic tool uses vacuum suction cups to pick 24 bars and then load two layers of bars into plastic totes, 12 in one tote and 12 in the other.
As soon as 16 layers are in each tote, it automatically indexes out to a station where an operator can place it on a pallet. The Cama robot, however, doesn't wait for two new totes to occupy the loading station. It begins filling two totes right beside the two that have just been filled. Meanwhile, empty totes move automatically into position so that they're ready when it's time for them to be loaded.
Absolutely critical in this robotic tote loading system are the customized injection-molded reusable plastic totes. Jacob was chiefly responsible for their design, while fabrication was the responsibility of an Akro-Mils partner in China.
"Loading with robots as we are, we needed the tote to be uniformly consistent. Also, it had to be easily palletized and fit perfectly on a 40x48 pallet," says Jacob in describing the 19 inch x 91∕2 inch totes. Each tote gets a thermoformed food grade PVC insert supplied by Integrated Thermoforming Systems. Jacob says that from a tooling and piece-part cost perspective, it proved to be more affordable to have Akro Mils' totes be common and standardized and the product-specific inserts, supplied by ITS, fit inside the totes to provide the correct orientation for each product type.
Whole lotta WIP
With six tote loaders running at speeds to 400 bars/min, it's little wonder that the plant floor between the six robotic tote loaders and the robotic system that empties the totes is a sea of pallets all brimming with layers of primary packages. "We run two to three shifts five days a week, and there might be anywhere from one to two million chocolate bars in WIP on any given day," says Jacob. "That may sound like a lot, but we pack them off in a day or two."
While the majority of the totes hold chocolate bars, some are filled with bags and others with folding cartons of twist-wrapped or panned candy packaged on equipment other than the six flow wrapping machines. Regardless of what's on a WIP pallet, all pallets eventually wind up being staged beside the 10 conveyor infeeds on the Cama IG 270. There operators pull totes from pallets and place them on one of 10 conveyor infeeds. From there, the IG 270 does the rest.
On the day of our visit, a 30-count case holding five varieties was in production, and the cases were being filled at about eight/min. "When we run a 60-count case holding nothing but $1 bars, we operate at 30 cases/min," says Jacob. "In total we run 23 basic recipes. Each recipe is a different combination of primary packs."
The way it works is that a lead operator pulls up an order and selects the correct recipe from the HMI. The Cama system then adjusts automatically so that the Delta style robots know what primary packages to expect and calmly go about the business of picking accordingly. Again, the first 10 robots pick from totes and fill the dual-lane flighted conveyor in the center, while the last three pick from the conveyor and fill the corrugated cases.
"One criterion we had for Cama was that if it's a variety pack, we want all five flavors facing up on the top row when the case is opened," says Jacob. This requirement is what led Cama to design the dual-lane conveyor running down the center.
"Most of our delta-style systems like this load directly from a race track or vision conveyor belt into a case or carton," says Billy Goodman, Managing Director at Cama USA. "But here we have to have each product variety visible on every layer. The only way to achieve that is to first create the sequences of all flavors with the first 10 robots and then use the last three robots to pick and place each layer into the cases."
Also a little unusual as multi-robot pick-and-place systems go is that no vision system is needed to send package location information to the robotic pickers. All necessary location info is in each recipe's software program. So each of the 10 tote-unloading robots knows precisely which flight it needs to put an item into and the three case-loading robots know precisely which flight they need to pick from each time.
Because so many varieties of primary packs—not just bars in three sizes but also folding cartons and even flexible packages—are being picked and placed into the corrugated variety packs, the flights in the dual-lane conveyor have to be adjustable. "We use servo motors to adjust the width of those flights," says Goodman. He says there's over 60 servo motors in the whole case-loading system. Supplied by Bosch Rexroth, each motor is a combination motor/drive. "We specified Bosch Rexroth partly because we liked how compact the integrated motor and drive in one unit is which helped reduce the size on our electrical panels," says Goodman.
Empty plastic totes drop onto a conveyor belt beneath the Cama IG 270 and are conveyed to a station where they are manually palletized. These pallets are then positioned next to one of the six Cama tote loaders, and an operator loads them into the tote loader as needed.
Checkweigher
Exiting the case packer is a Mettler Toledo checkweigher that identifies any case not having the correct number of items in it. Next are three Longford coupon or leaflet inserters, and after that the cases are ready to be closed on a Cama system that uses hot melt adhesive applied by a Nordson system.
"We wanted to standardize as much as possible on the number of case sizes, so some are completely full while others are a little less so," says Jacob. "It all depends on the combination of products the customer asks for." A total of only four case sizes are used, but there are a large number of different printed cases.
Jacob adds that the cases, supplied by International Paper, are quite unique and dramatically optimized compared to what was used before. "We used to order a double-wall corrugated case and once the case was manually filled and closed the operators would apply a plastic carrier handle. Now we have a single-wall B-flute one-piece top-load case with a reinforced area where an integral handle exists that is part of the case itself. The reinforcement material is a heat-activated tape from H.B. Fuller, which has been used typically in laundry detergent boxes. But there was considerable work involved as we adopted it for our application. There must have been at least 10 iterations, but we finally got it right. Remember, these cases are most often handled by kids going door to door in their fundraising efforts, kids who can be pretty hard on a corrugated case. We had to be sure the handle would survive intact." Jacob estimates a material cost savings of about 50% was achieved by creating and specifying this new box.
Once cases are closed, they make a right-angle turn into two pressure-sensitive labeling systems from Label Mill. These are usually in use only when a customer chooses to identify itself in some manner. Like if a school or church wanted to put its logo or Web site or a picture on the cases they order. Why two labelers? Because if Customer A and Customer B both want labels on their cases and Customer A's production run is only 500 cases, the second labeling machine can be prepared in advance so that downtime between the two production runs is minimized.
During our recent visit to the plant on Chicago's southwest side, Jacob emphasized repeatedly how important it was that the key machinery vendors stood ready to provide in-plant assistance long after the factory acceptance tests were over. Cama in particular, he says, had its hands full when, less than one year after its tote-loading and tote-emptying robots were up and running, WFC decided it was time that its chocolate bars were flow wrapped in flexible film instead of packaged in aluminum foil and a paper band. This change in primary packaging meant that instead of feeding individual bars into the robots wide-edge leading, they would now be fed in narrow-edge leading.
"We had to rotate all six tote-loading machines 90 degrees and reconfigure the method of loading bars into the carriers on the race track conveyors," says Goodman.
Looking back over a fast-track project that has had its share of surprises and included not just new cutting-edge machinery but also new primary and secondary packaging, Jacob admits it's been quite a challenge. "We've jumped years ahead of where we were a year ago," he notes. "Without excellent support from all our vendors, we couldn't have pulled it off."
Companies in this article
Videos from Nordson Corporation