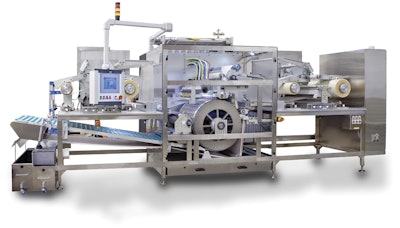 For some years now consumers have been able to add pre-measured water-soluble pouches of laundry detergent or cleaning solutions to laundry loads or buckets of water without having to directly handle or measure any chemicals. Cloud Packaging has been building high-speed form/fill/seal solutions to produce such pouches for more than four decades. Its Hydroforma pouch-making machine meets the most demanding production schedules, making up to 1,200 pouches or 840 liquid pouches/min.
But recently Cloud introduced the Hydroforma SP for customers who may not need such high output. It's centered on a rotary drum with rows of individual cavities arranged across the width of the drum. A unique vacuum system holds the water-soluble film tightly in place as the film is thermoformed to the depth of the drum cavities. Once the machine's pouch-detector vision system checks that film is properly positioned in the drum cavities, the product is deposited into the cavities through a customized feed system. The machine uses water moisture rather than heat to bond lidding material to forming web, which results in a pouch that breaks down easily in use, leaving no residual film behind.
The Hydroforma SP's tight control, provided by an Allen-Bradley CompactLogix programmable automation controller from Rockwell, helps reduce waste of the water-soluble film. This material can be very expensive, so the machine helps save upwards of $250,000 each year in reduced scrap.
The CompactLogix controller seamlessly connects with the Allen-Bradley PowerFlex 40P variable frequency drives via an EtherNet/IP network. A minimum of three Allen-Bradley Kinetix 6000 servo drives manage the machine's motion axes. In addition, Rockwell Software RSLogix 5000 design and configuration software offers intuitive programming for faster startup and lower cost of ownership.
"When we designed the Hydroforma SP, we knew we wanted to continue using Rockwell Automation," says Pete Reichle, Electrical Engineer at Cloud. "The Logix platform's scalability played a big role in providing a smaller machine with the same level of control."
An Allen-Bradley PanelView Plus 6 operator interface, enabled with FactoryTalk View Machine Edition (ME) software from Rockwell, provides user-friendly insight into the packaging process. The screen displays servo parameter entry, machine status and alarms, and other real-time data. Allen-Bradley Guardmaster MSR safety relays with safety-latching guard switches monitor the machine's safety system and help protect personnel from unintended machine starts and loss of safety function.
Companies in this article