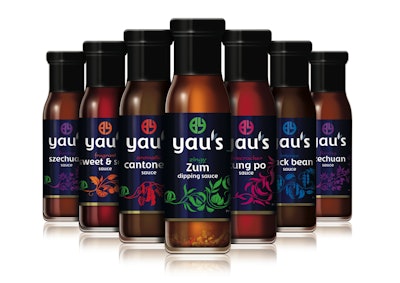 For a line of all-natural Asian cooking sauces from U.K.-based Bonnie Yau's Food Products, Slice Design Ltd. created a new brand identity that "turns its back on pastiche tradition and showcases modern Asia." Says Slice Director Alan Gilbody, "U.K. supermarkets are awash with Asian cooking sauces, but we found that most brands had stuck with the traditional image, and were often viewed as low quality and mass produced."
Growing up in Vietnam, founder Bonnie Yau developed a passion for flavor, fresh ingredients, and simple cooking methods. Her line of Yau's brand sauces uses quality ingredients to create true flavors of the East and give consumers a convenient and healthy way to enjoy Oriental cooking. But until recently, the label design for her glass packaging did not live up to the color and zing of her authentic sauces.
"The previous label lacked strong pack architecture," explains Gilbody. "Elements were competing for attention, appetite appeal was lost, and flavor differentiation was difficult on shelf. The unique selling proposition of natural ingredients was not dialed up."
Slice's strategy was to bring to life the spirit of modern Asia, through vibrant colors and a contemporary logo that gives a nod to the past. At the top of the label is positioned a round "BY" logo, influenced by the large, circular handles on traditional temple doors and the Chinese symbol for longevity. Vibrant colors correspond to flavor varieties, such as orange for Sweet & Sour and blue for Black Bean. This color is also repeated against the label's black background on stylized illustrations of sauce ingredients.
"We wanted to capture on pack the energy and glamour of the city that only comes to life after dark," says Gilbody. "Gleaming neon tones and tinted varnishes were used to force differentiation across the range and cue the vibrant skyline of the modern Asian city."
Yau's line of six dipping sauces was launched in its new packaging in October 2013.
Companies in this article