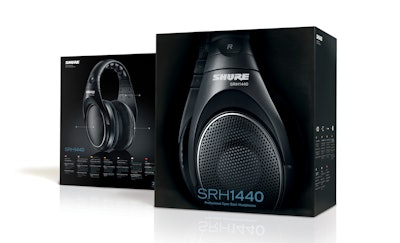 The focal point of the packaging for a new line of ultra-premium, professional-quality headphones from Niles, IL-based audio-electronics manufacturer Shure is the product itself. The sleek, lightweight headphone is depicted in clear detail in close-up photography that conveys the precision, quality, and premium nature of the products, which carry a price tag of $400 and $800 apiece. Introduced in high-end retail stores and through online dealers in early 2012, the Shure SRH1440 and SRH1840 series of open-back headphones are said to provide full-range audio, with detailed highs and rich bass, for professional recording engineers and passionate audiophiles.
To convey the high-end quality of the product—Shure's first entry into the ultra-premium headphone category—brand agency MiresBall opted for a crisp, minimalist package design with a black background that lets the larger-than-life product image do the talking. Says MiresBall partner/creative director, John Ball, "The sumptuous, close-up photography highlights every nuance of the headphones, suggesting the detailed sound quality they deliver."
The only other graphic elements on the front of the sleek, uncluttered carton are the headphone model number at the bottom of the box, along with the Shure logo, located on the product itself. Graphics are printed in four-color offset on a paperboard material laminated to chipboard and covered with a protective coating.
Ball relates that thus far both retailers and consumers have praised the product, as well as its packaging, saying: "One reviewer [Amazon.com] even remarked on the packaging, 'If you are considering purchasing the 1440s as gifts for someone, you could not select a more impressively packaged gift, as the fairly huge, handsome box they come in exclaims quality, class, and refinement, as do the contents.'"
Companies in this article