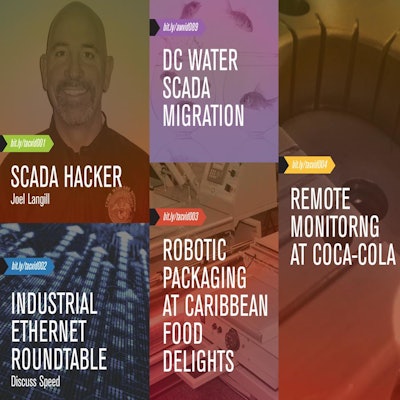 My favorite presentation was Joel Langill's presentation on how a system can get hacked and what you shouldn't do if your plant gets hacked (Must Watch Automation!).
The Industrial Ethernet Protocol roundtable discussion did not disappoint, either. Each protocol representative gave a brief presentation on the unique features and, then, Gary Mintchell, Co-founder and Editor in Chief, presided over an unexpected discussion about speed claims from Joey Stubbs at Beckhoff Automation, representing EtherCAT. Another excellent presentation came from Ken Bengtsson, senior project manager at DC Water. DC Water is a mid-sized water plant but operates the largest advanced wastewater treatment facility in the world. See how their public/private partnership allowed for a transformative change of this venerable water plant.
To view these presentations, click on the bit.ly address shown below with the accompanying image on this page. It's a great resource and be sure to visit bit.ly/tac2012news for all videos and articles on the process and discrete automation event.
1. Cyber Security for Industrial Control Systems: Joel Langill, Chief Security Officer and Control System Cyber Security Specialist for SCADAHacker, explains how easy it is to hack into most PLCs and provides you with steps to take now to protect your operations. bit.ly/tacvid001
2. Video: Inaugural Industrial Ethernet Roundtable Discusses Speed: Automation World's Co-Founder & Editor in Chief Gary Mintchell got what he has long wanted: a discussion with representatives from each of the major Ethernet-based networking protocols sitting side by side and answering questions. bit.ly/tacvid002
3. Rapid, Robotic Changeover in Packaging: Winston Strachan of Caribbean Foods and Rick Lidington of FMS Packaging Systems explain the quick changeover robotic packaging line developed for Caribbean Foods. bit.ly/tacvid003
4. Coca-Cola's Remote Diagnostics and Workflow Strategy: Kailash Mariappan, a plant controls specialist at Coca-Cola North America in Eagan, MN, has designed a system that enables remote access into the plant's operations to ease resolution of production issues. bit.ly/tacvid004
5. SCADA and Business Integration: Kenn Bengtsson, senior project manager at DC Water, explains how the utility uses SCADA as part of a cost-efficient system implementation with a high return on investment and customer satisfaction. bit.ly/awvid089
>> Click here for complete coverage of the 2012 Automation Conference