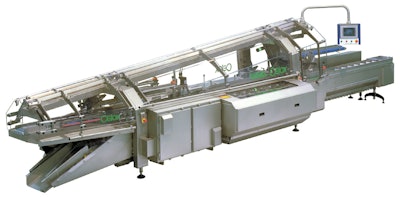 The CELOX Endload Cartoner from Kliklok-Woodman (www.kliklok.com) has been available since 2007. But the engineers at Kliklok-Woodman recently upgraded it by improving its flap kicker, a finger-like device that deflects the flaps of each carton outward at just the right instant to ensure the product is smoothly loaded into the carton. Originally the flap kicker was powered by a pneumatic cylinder, which was subject to wear out more quickly than a servo-based solution when used at high speeds. So K-W engineers replaced the pneumatics with a servo motor, the B310P MP-Series Food Grade motor from Rockwell Automation. According to Florin Bruda, K-W mechanical engineer, the flap kicker now ensures accuracy and reliability at speeds to 325 cartons/min. As for the MP-Series servo motor, in addition to being more reliable than the pneumatic cylinder it replaced, it's compact and can withstand high-pressure caustic washdowns.

To help develop the servo-driven flap kicker, the engineers employed another Rockwell tool: Allen-Bradley Motion Analyzer software. Motion Analyzer is a digital modeling and simulation tool that helps size and select an optimal motion system solution—one that uses the appropriate amount of energy and achieves the specified speed and throughput. Motion Analyzer also reduces the time required to design, develop and deliver a new machine.

"It made complete sense to use Motion Analyzer to do the initial motor sizing because the motion of the flap kicker is solely dependent upon the size of the particular carton and the size of its flaps," Bruda said. "I could plug in the specific end-user requirements and quickly test different servo motor sizes to find the right one, avoiding the need to test each option on a physical machine."

The design engineers have used Dassault Systèmes SolidWorks, a 3-D CAD mechanical design software, to create cutting-edge mechanical designs for many years. They were delighted to learn that Rockwell Automation formed a strategic partnership with Dassault Systèmes to link their mechanical, controls, and electrical design software packages. SolidWorks integrates with Motion Analyzer through API (application programming interface) calls, which provide a live link between the two software packages.

The engineers created motion profiles of the servo-driven flap kicker in Motion Analyzer, and then transferred the profiles to SolidWorks to visualize how the machine moved. SolidWorks then calculated the torque or force required to move the load through its profile, which Motion Analyzer used to size and select motors and drives. The integration between SolidWorks and Motion Analyzer helped the designers quickly simulate a variety of motor options to choose an optimal solution for the specific application, and they didn't need to purchase proprietary software from an outside supplier.

The CELOX integrates the MP-Series servo motor with other solutions to deliver motion precision, accuracy, and reliability. These include Allen-Bradley Kinetix 6000 multi-axis servo drives to allow easy speed and position adjustments and fast product changeovers. An Allen-Bradley PanelView Plus 1000 touch-screen operator interface allows employees to monitor machine activity, including status and diagnostics.
The machine also uses an Allen-Bradley ControlLogix L61 programmable automation controller. The controller features an integrated platform for motion and machine control and a single programming environment. This integration provides end users with fewer spare parts to maintain.

By digitally modeling and prototyping machine designs, mechanical, electrical, and control engineers can collaborate earlier in the design phase. In this case, K-W shortened the design phase of the new CELOX machine by combining electrical and mechanical design into one step. Motion Analyzer helped Bruda size the motor and allowed the mechanical engineer to complete tasks-such as sizing the gearbox—simultaneously.

With Motion Analyzer and SolidWorks, K-W estimated it cut design time by a third, compared to using manual calculations and a trial-and-error method for finding the correct motor size. Less design time equated to a shorter delivery window. Using Motion Analyzer also eliminated the material costs the company would have incurred if it had built a new flap kicker to test different motor sizes.
Companies in this article