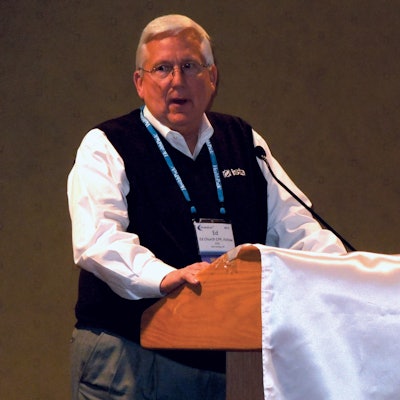 A patient bleeding out in the operating room or the emergency room demands that nurses make lightning-quick decisions to serve that patient and the surgeon. Packages that don't open or maintain a sterile barrier in that environment are unacceptable.

Confusing or difficult-to-read labels, hard-to-handle packages, and materials that tear or don't open properly are routine complaints from nurses heard by HealthPack attendees for the past four or five years. Those same pet peeves were expressed by three local nurses during day one at HealthPack 2012 in Albuquerque.

As in recent "Voice of the Customer" sessions at HealthPack, nurses were sequestered in a separate room from attendees. Jennifer Neid Benolken, CPP, and senior packaging engineer, St. Jude Medical, led a Nurse's Focus Group in which three Albuquerque nurses examined and discussed the positive and negative aspects of several different rigid and flexible medical device packs given to them by event co-chairs Curt Larsen and John Spitzley of Spartan Design Group. HealthPack attendees observed nurses comments remotely via a live video feed.

But it was the lively Q&A Nurse's Panel afterward that eventually led to a promising conclusion. Before that was reached, however, nurses reiterated the need for larger type and easier-to-handle packaging, given that the average nurse's age is in the 50s. Medical device manufacturer and supplier audience members established a dialogue with the nurse panelists via the question-and-answer format, addressing several concerns. Near the end of the session, Larsen asked the nurses what the medical device packaging community could do to further open the line of communication—not just with nurses, but with everyone at a hospital facility that handles the package, from the person receiving packaging shipments to the point where the package is opened in the surgical theater.

Nurses suggested the AORN (Assn. of periOperative Registered Nurses) Annual Congress could present an opportunity for the medical device packaging community to address nursing professionals. One of the Albuquerque-based nurses noted that nurses "are always looking for continuing credits," suggesting packaging education could be part of such a plan to help teach nurses on packaging materials, handling, opening, etc.

For all the packaging complaints, the Q&A ended with the nurses thanking the packaging community for its hard work. One said, "What you do makes our life easier."

Euro-centric flavor
More than 280 attendees at HealthPack 2012 prompted the event organizers to note that the number was about 40 more than usual. It was also announced that HealthPack 2013 will be held March 12 to 14 at the Marriott Louisville Downtown, Louisville, KY.

The major news, however, was that HealthPack will launch a European show this year, Oct. 8 to 9 at The Burlington Hotel in Dublin, Ireland—long a medical device stronghold. This show will focus on a content-rich conference program, now in development by HealthPack, Larsen, and Spitzley. Plans call for a conference/exhibitor event the following year, with three potential sites: Amsterdam, Brussels, or Luxembourg.

Events throughout HealthPack 2012's first day had a European-centric focus. Jennifer Blocher, medical device applications specialist, Medical Applications Div., Sealed Air, pointed out that last year's nurse's survey focused on European nurses. She noted that this annual survey has been translated into German, French, Spanish, Italian, and Chinese to help encourage greater participation in gaining nurse feedback on packaging. The next survey is scheduled for 2014.

Jennifer Bromm, senior project manager with DEKRA Certification, discussed Notified Bodies, how they work, the standards they operate under, and how medical device packaging requirements in Europe differ from those of U.S. agencies such as the Food and Drug Administration. She focused on EN/ISO 11607 standards.

Global standards were also brought up in an expanded standards update panel discussion that included Jackie Daly Johnson, president, Beacon Converters, and co-chair of AAMI TC198, WG7, Packaging; Patrick Nolan, president, DDL Labs; and ASTM Committee D10 past chairman; Ed Church, executive director, International Safe Transit Assn. ISTA; and Mike Troedel, Cardinal Healthcare engineering manager and ASTM Committee F02 past chairman. Troedel noted that one of the upcoming committee meetings would be held in Barcelona, Spain.
Companies in this article