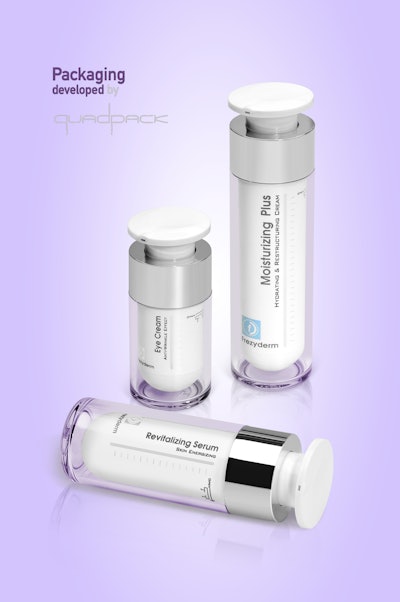 Athens, Greece-based pharmaceutical company Frezyderm is utilizing packaging design to underline the efficacy of its product formulations. Specifically, it employs a Show Bottle for its premium range of over-the-counter skincare treatments that combines Yonwoo's airless protection with a test tube shape designed to inspire consumer confidence.
The Show Bottle's striking spherical bottom is visible through a transparent outer base. With an inner bottle and polypropylene actuator, it is compatibile with a wide range of products. Patented airless technology protects the formula's integrity and eases dispensing of high-viscosity formulas.
International cosmetic packaging provider Quadpack developed all three packs in the range for 11 skincare products. The 15-ml Show Bottle is used to contain Frezyderm's Anti-Wrinkle Eye Cream and Eye Balm. The 30-ml pack is used for its Revitalising Serum. The tall 50-ml packs contain a range of moisturizing, sun protection, and anti-aging treatments.
The packs feature a metallized ABS (acrylonitrile butadiene styrene) collar, a white PP inner bottle, a clear SAN (styrene acrylonitrile) outer and a white PP actuator.
Frezyderm's Web site says the company was created in 1987 to sell cosmetics and dermatological products within Greek pharmacies. The company relies on different packaging processes for different types of products, using automatic filling and packaging plants, adhering to the Good Manufacturing Processes for cosmetics-pharmaceuticals.