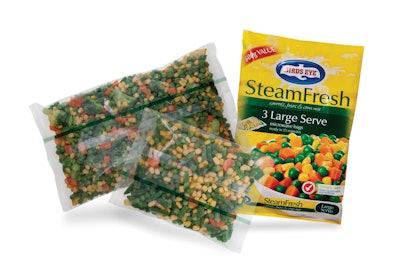 Used by Simplot Australia since late 2010 for its Birds Eye SteamFresh frozen vegetable products, FPA's Gold winner for Technical Innovation is Berry Plastics Corp.'s microwavable "One Size Fits All" film packaging. One Size Fits All film features a universal design that allows customers such as Simplot to package various types of frozen food items in a range of pouch sizes and design formats using the same film roll stock.

"Existing microwavable frozen food packaged for consumer and institutional packages in the market have always had different graphics and/or different steam vent systems for every different package format and/or every different frozen food item or size," explains Paul Wolak, Berry Plastics' technical director Food and Beverage Packaging. "Food packers have had to use different roll stock to package every different product that runs on the packaging machine."

One Size Fits All film is designed to accommodate package sizes from 5 to 28 oz and can be used to create pouch formats that include pillow, gusseted, and three-side sealed. "Packaging machine operators only need to adjust the lengths of the cut-off and change the setup for the different pouch designs to accommodate the change of food items on the packaging machine," says Wolak. This results in reduced machine downtime, as operators "do not have to change the film roll for every job and completely redo the machine adjustments for every different food item," he adds.

While the film construction of One Size Fits All is proprietary, Wolak shares that it comprises a lamination of PET to a Berry Plastics custom-designed coex film. The film's proprietary steam-venting system controls the steam pressure within the package to cook the foods uniformly and consistently and ensure that the package does not burst during the cooking cycle. The film, which is also said to provide great cold-temperature durability, is offered in two formats: SteamQuick Matrix, for products with lower cooking temperatures (212° F to 225° F), such as frozen vegetables; and SteamQuick HT, for products with higher cooking temperatures (250° F and above), such as vegetables with protein and butter.

Film graphics consist of a continuous green strip—a design that uses far fewer inks and solvents when compared with other microwavable film pouches that use full graphic designs with various colors.

The advantages of a universal film design also include reduced costs for handling and inventory. "With only one roll spec, the rolls are easy to organize on a pallet and in a transporting vehicle so that more rolls fit in one shipment," advises Wolak. In addition, the design reduces the cost of keeping roll-stock inventory for various product items.
Companies in this article