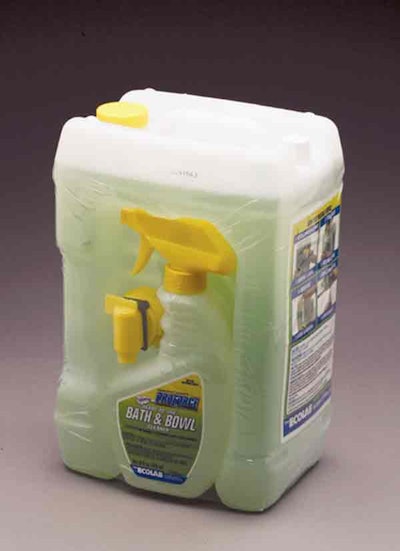 At Ecolab Inc. in St. Paul, MN, a package-development project aptly nicknamed "Project Legoland" resulted in an award-winning package that represents several unique technical accomplishments.
Containing Ecolab's ProForce Cleaners, either a multipurpose cleaner or a bath and bowl cleaner, the multicomponent package combines a 16-oz everyday dispensing bottle that fits neatly into a pocket molded into a much larger 1.25-gal bottle. The consumer refills the smaller dispensing bottle from the larger bottle. Sold at Sam's Club stores for about $7, the package:
• has a square footprint for good cube efficiency
• meets the retailer's specific criteria with its palletizing pattern, and
• delivers convenience to users with a cleaning "kit" approach.
The package won Best of Show in the National Association of Container Distributors (www.nacd.net) 2007 Packaging Awards Competition announced earlier this year. The 16-oz dispensing bottle is extrusion blown of high-density polyethylene by MGS Mfg. Group (www.mgstech.com.) The 1.25-gal container, measuring 7 1/2"x5 1/4"x11 1/2", is extrusion blown of high-density polyethylene by Fortco Plastics (www.fortco.com). TricorBraun (www.tricorbraun), the container distributor that supplied both bottles and other components to Ecolab, played a key role in the design and manufacturing of this award-winning package.
In addition to the two bottles, the package comes with a dispensing spray fitment on the 16-oz bottle, and a spigot (used for refilling the smaller bottle) that fits alongside the 16-oz bottle in the pocket of the larger bottle. There's also two screw caps on the top, a larger one where the spigot goes to dispense the cleaner, and a small cap that reveals a vent hole. Holding everything together is a polyvinylchloride shrink band from AmeriSeal (www.ameri-seal.com).
Designed with Wal-Mart's sustainability initiative in mind, the packaging was introduced at Sam's Club in April 2006 and was in full distribution by June, says Tina Outlaw, Ecolab's director of global supply quality. She says the packaging is a big improvement over a bag-in-box approach that Ecolab discontinued several years ago.
For one thing, its rectangular shape yields efficiencies in handling, shipment, and store display. Outlaw says an 80-count, two-layer-high unit load achieves 98.5% of "perfect" pallet utilization. Merchandising is maximized whether containers are left on the pallet, put on the shelf, or placed on end-cap in store. The format targets Sam's small-business customers, who purchase most of the ProForce products.
Outlaw says the development was known as Project Legoland because the container could be stacked in different orientations. She was assisted in the development by a hand-picked team (see teamwork sidebar below).
The package development involved several challenges, starting with the 1.25-gal bottle.
Better by design
During the development, the Ecolab team called on Stress Engineering Services (SES, www.stress.com) to conduct state-of-the-art stress engineering modeling to help in the design of the bottle and mold. SES also interfaced with TricorBraun, whose role was crucial in last-minute tweaking, according to Outlaw.
Design studies and computer modeling and simulations were performed to predict problematic areas, and adjustments to the package were made accordingly. A particularly effective feature is the load-locking nubs at the top of each container that fit into corresponding indents on the package positioned above it. The design helps stabilize the load and contribute to a case-free pallet.
"We used design modeling to anticipate where we were going to have problems," says Outlaw. She says the "bridge"—located above the pocket where the smaller bottle is nested—was a key area. Because of the lack of corrugated in the primary or secondary packaging, the bridge has to take the brunt of top-to-bottom compression when the containers are stacked.
"We made sure that when we designed the [mold tooling] in three sections, that portion of the tool could be modified once we got it on the machines if we needed to do some tweaking," she explains. "Using that kind of failure-mode analysis, we could anticipate problems and determine what kind of polymers were most suitable." Those studies, which included accelerated shelf life analysis, also led them to use high-impact HDPE.
The result is a container that is shipped to Sam's stacked four high: two pallets stacked two layers high that Outlaw says could be stacked twice as high.
Outlaw estimates that the use of computer modeling cut eight months out of the development timeline to reduce the concept-to-launch timeframe to six months, from October 2005 to April 2006.
She says Ecolab has used Stress Engineering Services on projects over the past 25 years, but those were more in reactive mode for problem solving, rather than a proactive mode as this project was.
The package footprint was optimized for in-line fillers with little changeover required.
Outlaw also points to the flexibility of the design that permits the container to be molded with or without the indent. It also allows insertion of other items in that area, such as a sponge or a dish soap bottle.
The incredible shrinking label
The large container's 7" x 18" pressure-sensitive label from Meyers (www.meyers.com) adheres to three sides of the large bottle. It comprises a 60# paperstock flexo-printed in four-plus colors with 1-mil laminated film for scuff resistance. Outlaw calls it a unique, innovative label.
Because the large bottles are manually labeled immediately after blowmolding while the 1.25-gal container is still warm, Outlaw says the labels are designed with 4% shrink to reduce wrinkling as the labeled bottles cool. That keeps the graphics looking nice and neat. The shrinkage occurs within the first 15 minutes, she notes. Both the label adhesive, which Meyers calls a zone adhesive, and the adhesive pattern are crucial, Outlaw says.
According to Meyers, the label required several months of testing of various constructions and production methods to obtain the "perfect recipe" with the desired characteristics.
Coded for a two-year shelf life, the packaging replaces a bag-in-box format that had been used several years earlier that didn't merchandise very well and was discontinued, Outlaw says. "Sam's Club likes the merchandising versatility of this new package because they can stack it on their shelves, facing in either direction, showing the nested bottle or not."
It also eliminated "a significant amount of corrugated" compared to the BIB format, according to Outlaw. "The only corrugated used is for four corner posts and a top cap, so it fits Sam Club's sustainability initiatives."
What began as a goal and a concept has become an award-winning reality for Ecolab.
"My team was challenged to come up with an alternative to regain that business," she says. From a packaging standpoint, Ecolab has stacked things in its favor to do just that.
* UPDATE MAY 1, 2007 *
After press time, Outlaw also wanted to credit the other vendors involved in this complex, but successful project:
o Trigger sprayer for 16-oz bottle: Calmar Mead-Westvaco (www.calmar.com)
o 28-400 closure for 1.5-gal bottle: O-I (www.o-i.com).
o 18-mm vent closure for 1.5-gal bottle: Berry Plastics (www.berryplastics.com)
o Spigot: Fastex (www.fastex.com.au)
Companies in this article