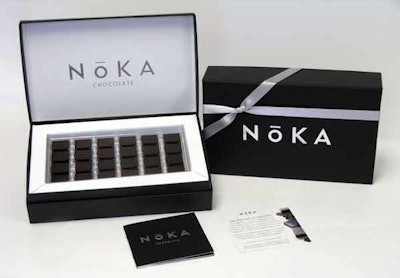 At the luxury end of the market, presentation is everything, and NOKA Chocolate believes the experience of consuming its hand-crafted chocolates begins at the moment when the consumer interacts with the container. The Dallas, TX-based marketer packages hand-crafted truffles and chocolates in a keepsake carton, called an Encore Box™, to engage all the senses for both the giver and the receiver of its gift-quality products. The chocolates sell for as much as $234 per carton.
"The NOKA Chocolate experience takes into account the entire ceremony of gift-giving, and this begins with our unique packaging," explains Noah Houghton, company president. "By redesigning our Encore Boxes as a keepsake, we ensure that magical moments and memories can be enjoyed long into the future by both the person who gives the gift and by the person who receives the gift."
NOKA maximizes those magical moments when the carton for its chocolates is touched and then opened. A decorative black-and-silver hinged carton with a telescoping lid make the package a decorative keepsake that puts the NOKA brand name in front of consumers long after the candies have been eaten.
The three-piece rigid paperboard carton is from Paul T. Freund Corp. (
www.ptfreund.com
). A dual paper hinge secures the lid and the carton. The interior tray holding the candies rises above the carton, and the lid "telescopes" over the portion of the tray that protrudes from the carton. The lid sits flush against the top of the carton to provide additional rigidity and structure and prevent carton damage.
Decorative touches make the package an elegant gift. The carton is wrapped in black paper. It contains a silver foil-stamp for the NOKA logo and a black foil-stamp bearing the Encore name. After the logo is stamped it is debossed for visual contrast.
NOKA's Vintages Collection is a compilation of premium dark chocolates. The Grand Cru Collection consists of hand-crafted truffles made with dark chocolate and fresh organic cream. Packaging for both lines is designed to hold up to 96 chocolates or truffles.
Companies in this article