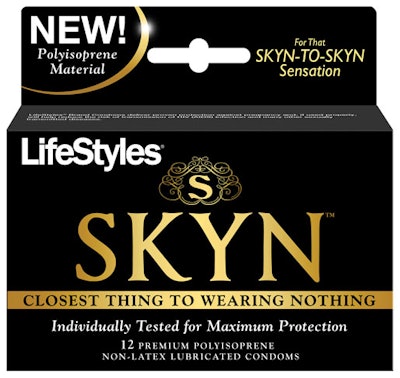 Cartons with a solid black background direct consumers to focus on the LifeStyles SKYN product name, which is printed in gradient yellow tones to help give the lettering a regal gold appearance. The thin, sleek copy font aims to deliver a sexy contrast from the dry, boxy typeface typically found on condom packaging.
That's according to a press release issued by Red Bank, NJ-based Ansell Healthcare Products, whose Consumer Products arm introduced LifeStyles SKYN prophylactics last summer.
"Most people don't know that condoms are a medical device," says Carol Carrozza, vice president of marketing for LifeStyles SKYN condoms. "That means the products have to go through rigorous testing and be approved by the Food and Drug Administration before they go to market."
That was the case with LifeStyles SKYN, which is marketed as the first and only clinically approved polyisoprene, nonlatex condom, designed to provide greater sensation and comfort than other non-latex or natural rubber condoms. Targeted towards males aged 18 to 30, SKYN "is a new material, so that if people are allergic to latex, they have an alternative that's gone through FDA standards and tests and clinical trials, is safe and effective, yet is comfortable and provides sensitivity," Carrozza says.
Theft-protection devices
The primary foil pack is provided by suppliers in Asia that ship the material to Ansell's packaging plant in Dothan, AL. Either three or 12 foil-packed condoms are automatically filled by an R.A. Jones (www.rajones.com) cartoner into cartons supplied by Carton Service, Inc. (www.cartonservice.com). Carrozza says Carton Service also adds a theft-prevention device to the carton.
"We are required by the retailers to source-tag each pack to help reduce pilferage," she says. Ansell uses tags supplied by Sensormatic (www.sensormatic.com) and Checkpoint Systems (www.checkpointsystems.com). "The condom category is perceived as a high-pilferage category," she notes. "These devices have helped us recover some inventory over the years."
Marketing strategies
Available in either a three-pack for $3.95 or a 12-pack for $12.99, LifeStyles SKYN condoms are also sold to public health agencies and clinics, where Carrozza estimates Ansell accounts for 70% of that market. "It's interesting that the condom market is smaller than most people think," she says. "In retail dollars, according to Neilsen, it's about a $300 million market in the U.S., but that's just what's measured at food stores, drug stores, and mass merchandisers. It does not include Wal-Mart, which does a tremendous volume, as you might guess."
Although Ansell sells condoms at a reduced rate to health agencies and clinics, Carrozza believes that it's "the right thing to do because it's a difference maker. People who are fairly young and first becoming sexually active often become initiated into family planning or sexual healthcare devices by going to a clinic where a nurse or a doctor is teaching them about their options. That actually supports our commercial market, in that some people simply can't afford to go into a drugstore and buy the product, so they are going through the clinic. Eventually they will come into the commercial market as well. So there really is a very good companion strategy.
"The polyisoprene product doesn't require different packaging materials, but we do have to prove to the FDA that this material is acceptable and effective. So, we have conducted accelerated [aging] tests to prove that the condom performs and is as effective [after a certain time has passed]." She says the shelf life of the polyisoprene condom is three years, less than the five years for traditional condoms. "That's because these are so new that we won't be able to claim five years until we have real five-year data," she says.
"We worked with Webb Scarlett deVlam (www.webbscarlett.com) on the package design," she says, noting, "the [condom] category is an interesting one because people still can be embarrassed to buy this product in the store. They don't know who is behind the counter. They might have to ask for the product if it is behind the counter. And there are not a lot of advertising dollars in the condom category. So we had to try to communicate as much on the packaging as we possibly could to generate sales and try to communicate that SKYN should be viewed as a different product."
Carrozza says consumer testing determined that the gold lettering and black color provided a premium, masculine appearance that appealed to the target male audience. It also helped in the eight to 10 seconds it typically takes for a consumer to make a decision whether to buy the medical device or not. "It's a quick decision sometimes," Carrozza notes, "because they don't want to be seen standing there. It [may be] embarrassing to pick up a [condom] package and read it. This package looks good. Copy on the pack says to them that it is sensitive, that it's the closest thing to wearing nothing."
The retail market itself presents challenges to condom makers. Carrozza says there are "limitations driven by the retailer because they are constrained by space. Another in-store challenge to marketing condoms, she points out, is the glare from store lights, and that some retailers sell condoms behind a lock and key."
Despite those challenges, Carrozza says Ansell is considering the rollout of more SKUs, "because the early indications are that the sales are very good."
Companies in this article