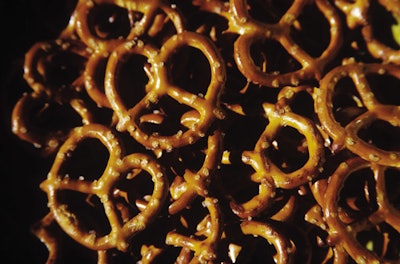 From reductions in fiber used in a corrugated case, to complete packaging redesigns, changes in both primary and secondary packaging can greatly improve sustainability, cube utilization, and product-to-package ratios.
However, Consumer Packaged Goods (CPG) companies can also gain a significant sustainability advantage by optimizing their distribution operations. This is reinforced by the fact that cube utilization and general transportation factors combined account for 25% of a company's total score on Wal-Mart's packaging scorecard. Whether as a result of a package redesign, or independently optimizing distribution opportunities, changes in logistics practices can reduce the number of trucks on the road, resulting in reduced fuel usage and fewer greenhouse gas emissions.
Evaluate the supply chain for opportunities to enhance sustainability
For example, Snyder's of Hanover, the nation's largest pretzel manufacturer, set out to uncover supply chain savings and improve sustainability. With the help of Georgia-Pacific, its corrugated packaging provider, Snyder's was able to redesign several packages of popular snack-food products. Georgia-Pacific's Packaging Systems Optimization (PSO) team helped the company identify areas of packaging material reduction and line efficiency improvements. Snyder's also upgraded its shipping fleet from 42- to 53-ft trailers, increasing the capacity of each shipment, thereby reducing shipping and fuel costs. The PSO team also saw an opportunity to reduce transportation costs on the back end, examining the way GP shipped corrugated packaging to Snyder's in Snyder's trucks.
The package redesign allowed GP to increase the number of boxes/pallet, which reduced the number of in-bound trailer loads required to deliver packaging materials. The larger trailer size utilized by Snyder's and the increase in boxes/pallet created significant space. The team considerably increased the amount of corrugated boxes shipped with each truckload.
Snyder's was able to reduce the number of truckloads by 167 a year, improving sustainability figures and adding substantial transportation savings. Most important, Snyder's saved 1,469 gal of fuel, 183,511,000 BTUs/year, and reduced its greenhouse gas emissions (GHG) by 32,328 lb/year. That's not just good for the environment, that is also good for business.
Here are some additional tips to maximize sustainability through modifications in transportation:
• Pallet orientation. Consider pin wheeling your unit loads as one way to increase truck utilization without changing your package size, assuming four-way pallets are used.
• Load share/right-sizing. Headspace in the box can be optimized through applying load share analysis, which ensures that the primary, secondary, and interior packaging is working together to maximize stacking strength potential. This can lead to improved sustainability through material reduction or through fewer truck loads by improving cubic efficiency within the trucks.
• Take advantage of backhauling. Another way to enhance sustainability in logistics is through backhauling. Keeping trucks utilized on return trips saves money and time, and it significantly decreases greenhouse gas emissions. Picking up raw material en-route from delivering a final product makes every trip on the road more valuable. For more information on Georgia-Pacific's Innovation Institute and PSO program visit www.gpinnovates.com. Please email any questions or comments to gpinnovates@gapac.com.